AVR VISITS TRAIN MOUNTAIN DURING THE TRI-ANNUAL MEET BETWEEN JUNE 21 ST. AND 28 TH. AND BRINGS AVR # 3001 OUR GP-9 PLUS THREE GONDOLAS. BILL TAYLOR, MARY-LOU TAYLOR AND GERALD PARKER WERE THE AVR MEMBERS PRESENT AT THE MEET. THE FOLLOWING PICTURES WERE TAKEN BY BILL TAYLOR DIGITALLY UNLESS NOTED AND ARE AVAILABLE ON REQUEST IN HIGHER RESOLUTION. ON SMALL PICTURES JUST CLICK TO GET A LARGER VIEW. 18 OF THE 200 OR SO PICTURES TAKEN AT TM. PAGE SET UP ON AUGUST 1 ST, 2003 BY BILL TAYLOR OF WINNIPEG.
AVR 3001 SITS NEXT TO TRAIN MOUNTAIN LUMBER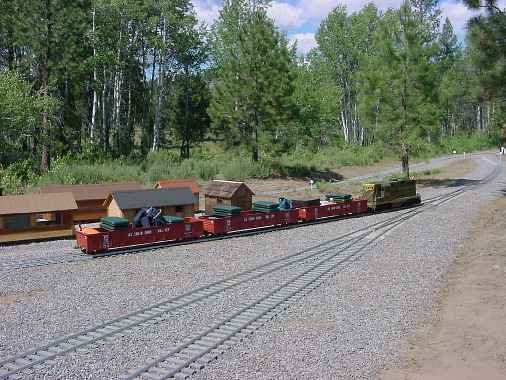 AVR TRAIN MAKING A STOP AT THE LUMBER CAMP ON THE WAY BACK FROM ELIZABETH AT TRAIN MOUNTAIN.
AVR AT TM. LOCOMOTIVE LETS OFF STEAM.

THE CN F-7'S A & B FROM EDMONTON, ALBERTA

TALK ABOUT BRINGING A MODEL TO A CONTEST WITH THE PAINT STILL WED. THIS C.P.R. HUDSON FROM VANCOUVER, B.C. STILL NEEDED FINAL PIPING AND WAS COMPLETED AT TRAIN MOUNTAIN.
A FINE SET OF CN CABEES FROM EDMONTON. TWO STYLES OF PAINT.
THE CN F-7'S HEAD OUT ON A DAY TRIP.

WHO TOOK THAT PART?
A TYPICAL DAY AT CRISP YARD.
QUENTIN BREEN WITH HIS LOCOMOTIVE DOING SOME SWITCHING IN MAIN YARD.
THAT GREAT LOOKING UNION PACIFIC PASSENGER TRAIN. 150 FEET IN LENGTH.
NOW THAT HUDSON IS STARTING TO LOOK FINISHED.

TRAINS ARE STARTING TO ARRIVE IN MAIN YARD FOR SATURDAYS PARADE.
THE STEAMING AREA AT CRISP IS ALIVE WITH ACTIVITY.

THAT HUDSON ACTUALLY IS READY. WHO WOULD HAVE THOUGHT THREE DAYS EARLIER.
STARTING TO TAKE SHAPE FOR THE BIG PARADE WITH 240 TRAINS.
MORE WAITING TRAINS.
EXHIBITION AREA WITH MANITOBA FLAG AT THE LEFT OF BUILDING.
hits since May 23rd, 2004
RETURN TO RAILWAYS WE HAVE VISITED