AVR VISITS MEDFORD ON THE WEST COAST RAMBLE ARRIVING SUNDAY JUNE 29TH, AND RUNNING DURING THE MEET ON MONDAY JUNE 30TH, 2003. THE CLUB PUT ON A VERY NICE LUNCH. PICTURES WERE TAKEN BY BILL TAYLOR OF WINNIPEG. TO ENLARGE CLICK ON SMALL IMAGES.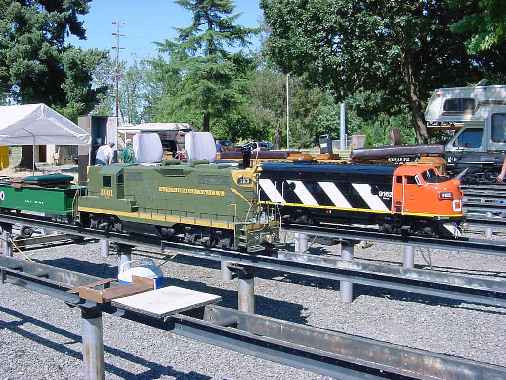 AVR # 3001 SITS NEXT TO ONE OF HER YOUNGER SISTERS THE F-7 FROM EDMONTON.

A LOCOMOTIVE STEAMING UP FOR THE MEET.

SINCE THE 2000 RAMBLE THE MEDFORD CLUB HAS ADDED THE NEW CAR BARN TO THE RIGHT OF THEIR LARGE BUILDING. OTHER NOTABLE ADDITIONS INCLUDED THE LARGE BRIDGE ON THE FUTURE LINE.