THE AVR VISITS IRON HORSE PARK (THE ALBERTA MODEL ENGINEERING SOCIETY) IN AIRDRIE, ALBERTA ON WEDNESDAY JULY 9TH, 2003 AND BECAME THE FIRST LOCOMOTIVE FROM OUTSIDE THAT CLUB TO RUN ON THEIR NEW TRACK. BILL & MARY-LOU ATTENDED WITH #3001. THE PREVIOUS SUNDAY PETER ABEL FROM THE AVR ATTENDED THEIR OPEN HOUSE. PICTURES TAKEN DIGITALLY. PAGE SET UP BY BILL TAYLOR OF WINNIPEG AUGUST 5TH, 2003. CLICK ON IMAGE TO ENLARGE.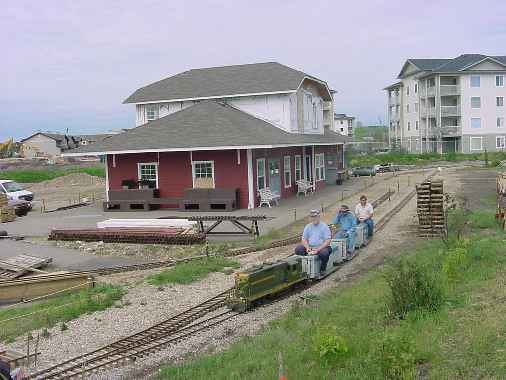 AVR #3001 RUNS PAST THEIR GREAT LOOKING CPR STYLE STATION IN 1 TO 1 SCALE. THE CLUB HAS BEEN WORKING ON THIS LAND FOR ABOUT THREE YEARS AND THIS SPRING MANAGED TO JOIN THE FIRST LOOP OF REAL STEEL RAIL TOGETHER. PICTURE TAKEN BY MARY-LOU TAYLOR OF WINNIPEG.
ONE NICE FEATURE IS THIS THROUGH TRUSS BRIDGE. A GOOD CLIMB UP AND VIEW ACROSS TO THE NEXT HILL. PHOTO BY DEREK BEATSON.

#3001 CROSSES A LONG WOOD TRESTLE. THEIR ELEVATED TRACK IS VISIBLE IN THE FOREGROUND. PHOTO BY DEREK BEATSON.