THE AVR VISITS VIME IN VICTORIA B.C. ON JULY 3RD, 2003 AS PART OF THE WEST COAST RAMBLE. PICTURES TAKEN DIGITALLY. PAGE SET UP BY BILL TAYLOR OF WINNIPEG AUGUST 25TH, 2003. CLICK ON IMAGE TO ENLARGE.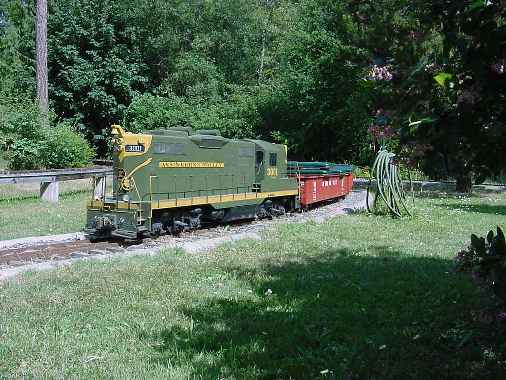 AVR #3001 SITS ON A SIDING AT VICTORIA DURING A LUNCH BREAK.

VICTORIA'S CLUB HAS A VERY NICE STEEL BRIDGE THAT WE AT THE AVR CONSIDER A SIGNATURE FEATURE OF THIS FINE RAILWAY.
DOUBLE HEADING A TRAIN WITH STEAM IS ALWAYS FUN.
IN VICTORIA WE GOT A FIRST LOOK AT THE PACIFIC THAT CLIFF IS BUILDING FOR THE AVR.
THAT IS A GREAT LOOKING SET OF DRIVERS AND RODS. WILL MAKE THIS A GREAT LOOKING PACIFIC.