ASSINIBOINE VALLEY RAILWAY INC.
3001 ROBLIN BVD, WINNIPEG, MANITOBA
PH-204-837-1305 OR 786-4882 OR 782-7090
E-MAIL iceman@swedenfreezer.com
AVR BADGES AND PATCHES FOR SALE
Add to your collection with these keepsakes from the ASSINIBOINE VALLEY RAILWAY. The three inch cloth patches are embroidered in four colours suitable to be sewn on clothing. The metal two and a quarter inch badges with pin are in three colour.
PRICES including postage to Canada or USA are.
Cloth patches $5.00 US or $5.00 Can
Metal badge $2.50 US or $2.50 Can
If you visit our station you save the shipping costs.
Mail in a cheque or we accept VISA or MC.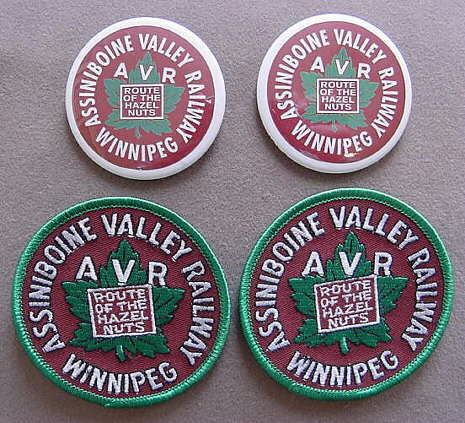 Page updated by Bill Taylor 7th, Jan 2012
---