THE AVR WENT TO TRAIN MOUNTAIN 2012 TRIENNIAL RAMBLE AT THE END OF JUNE. WE BROUGHT THE AVR TRAILER FULL OF EQUIPMENT, LEN'S VAN, PHIL S. TRUCK AND FOUR LOCOMOTIVES. BILL'S PACIFIC #2365, PHIL'S PACIFIC 6612, BARRY'S TRUCK WITH RIDING CAR AND PACIFIC, PETER'S WOOD CARS, CABOOSE, STOCK CAR AND REFRIGERATOR CAR ALONG WITH FOUR GONDOLAS THREE LOG CARS, SIX ORE CARS, FIVE BOX CARS AND A HOPPER CAR. LEN'S MIKADO AND THREE CARS. WE RENTED FOUR TANK CARS. MEMBERS OF THE CLUB FROM WINNIPEG WERE, BILL TAYLOR, LEN LA RUE, BARRY SOLOMON, PHIL & PAT SHAW AND STEPHEN. IAN AND CATHERINE BOWERING AND MEMBERS FROM THE AVR BUT FROM OTHER PLACES, WHIT JOHNSON, CARLA JOHNSON, DAN, LAUREL & DANIELLE BASSINETTE, BOB PAPPA, TOMMY CEBULLA, CHUCK & CHRISTOPHER PARK, STEVE MUSCATO AND CLIFF PLUMPTON.
ALL PICTURES TAKEN BY BILL TAYLOR UNLESS NOTED. CLICK ON SMALL PICTURES TO MAKE THEM BIGGER If you can add names or details about equipment and people in the pictures please send them along. Just go to the AVR main page and click my e-mail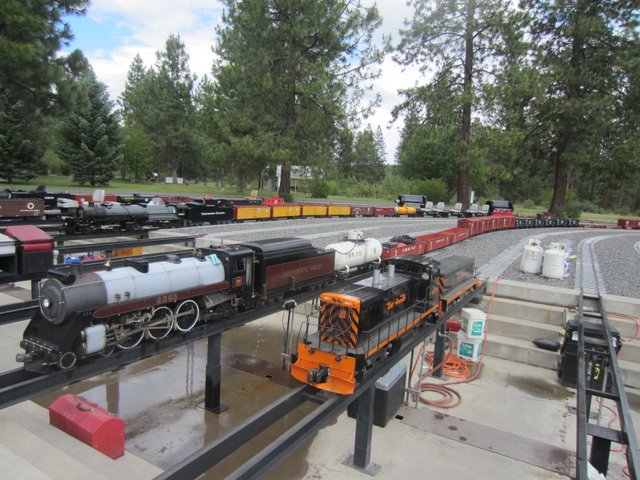 # 1 - AVR PACIFIC 2365 IN CRISP YARD WAITING TO GET STEAMED AND PULL 21 CARS IN THE PARADE AND DOWN THE HILL AND BACK UP..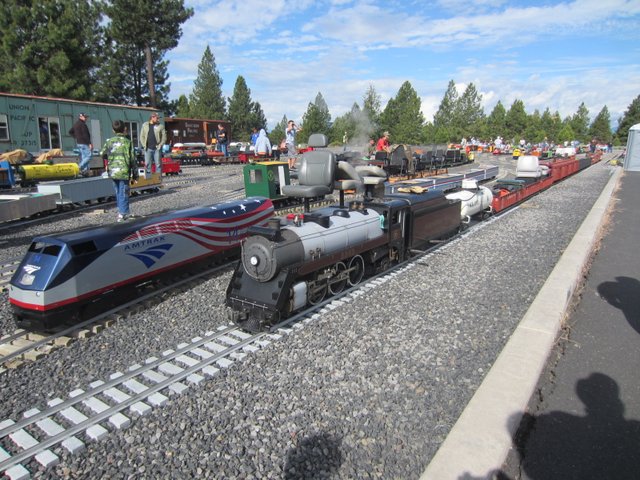 # 2 - AVR TRAIN 2365 IS WAITING ON THE OUTSIDE TRACK DURING SATURDAY'S PARADE WITH 21 CARS. .

# 3 - MORE TRAIN.

# 4 - PHIL SHAW'S PACIFIC MP 6612 WITH CARS ON THE SERPENTINE.

# 5 - BARRY'S LIGHT PACIFIC GETTING PREPARED BY DANIELLE FOR A DAY OF RUNNING..

# 6 - LEN'S MIKADO WITH TRAIN IN THE MAIN YARD DURING SATURDAY'S PARADE.

# 7 - MEETING CHUCK ON THE WAY TO HOPE CIRCLE AND A WARNING THAT A DIESEL HAS COVERED THE RIGHT RAIL WITH A LAYER OF HYDRAULIC OIL AND THE NEED FOR SAND. 2365 IS BEING RUN BY CHRIS HOLLAND.
# 8 - TWO GESTS GETTING A RIDE ON 2365 PULLING 21 CARS BACK UP THE SERPENTINE..
# 9 - THE BUILDINGS ALONG THE WAY ADD A LOT OF INTEREST TO THE RAILWAY.
# 10 - 2365 IS HEADING TO HOPE CIRCLE WITH 13 CARS.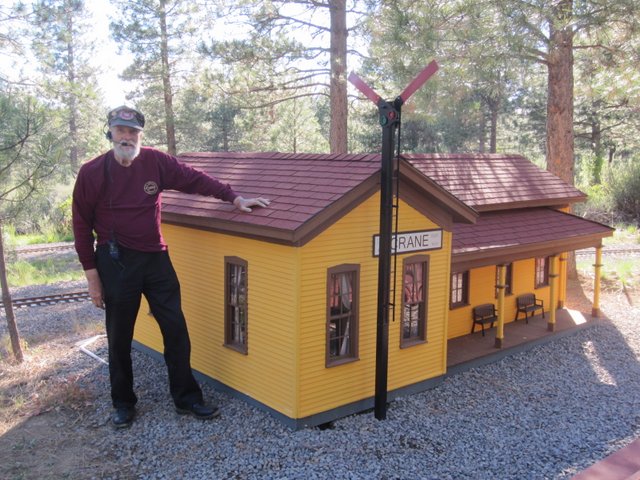 # 11 - A WATER STOP AT CRANE. PICTURE TAKEN BY CATHERINE.
# 12 - IN CRISP YARD

# 13 - ANOTHER TRAIN GOING DOWN HILL.

# 14 - A GREEN AND YELLOW TANK WORKING THE HILL.
# 15 - ANOTHER VIEW OF CRISP YARD.
# 16 - MORE OF THE MAIN YARD ON PARADE DAY.
# 17 - LOADING UP A NARROW GAUGE LOCO.
# 18 - THE PASSENGER EXPRESS STOPPED ON THE WAY TO HOPE.
RETURN TO THE AVR HOME PAGE AND LOTS MORE PICTURES. of other clubs we have visited and more about the ASSINIBOINE VALLEY RAILWAY and check out our New Pacific.
Page new on JULY 15th, 2012 by Bill Taylor of Winnipeg Updated July 18th, 2012