THE AVR WENT TO TRAIN MOUNTAIN 2009 TRI-ANNUAL RAMBLE AT THE END OF JUNE. WE BROUGHT OUR NEW TRAILER FULL OF EQUIPMENT, ROB'S VAN, PHIL S. TRUCK AND FOUR LOCOMOTIVES. OUR PACIFIC #2365 AND 5427, PHIL'S PACIFIC 6612, BARRY'S RIDING CAR, OUR BOX CAB #25, PETER'S WOOD CARS, CABOOSE, STOCK CAR, BOX CAR AND REFRIGERATOR CAR ALONG WITH FOUR GONDOLAS AND THREE OPERATORS CAR FOUR LOG CARS, AND A FLAT CAR. WE RENTED THREE TANK CARS AND TOOK DELIVERY OF A NEW TANK CAR FROM TM. MEMBERS OF THE CLUB FROM WINNIPEG WERE, BILL TAYLOR, VIC ST-GERMAIN, LEN LARUE, BARRY SOLOMON, MARY-LOU TAYLOR, ROB & JOSEPH GEARNS, PHIL, BECKY, AUGUST & EMILY MENDELSOHN, PHIL & PAT SHAW. MEMBERS FROM THE AVR BUT FROM OTHER PLACES, JACK ANDERSON, JJ ANDERSON, WHIT JOHNSON, CARLA JOHNSON, DAN & DANNIELLE BISSONNETTE, STEVE MUSCATO AND RALPH STEEVES.
ALL PICTURES TAKEN BY BILL TAYLOR OR MARY-LOU TAYLOR UNLESS NOTED. CLICK ON SMALL PICTURES TO MAKE THEM BIGGER If you can add names or details about equipment and people in the pictures please send them along. Just go to the AVR main page and click my e-mail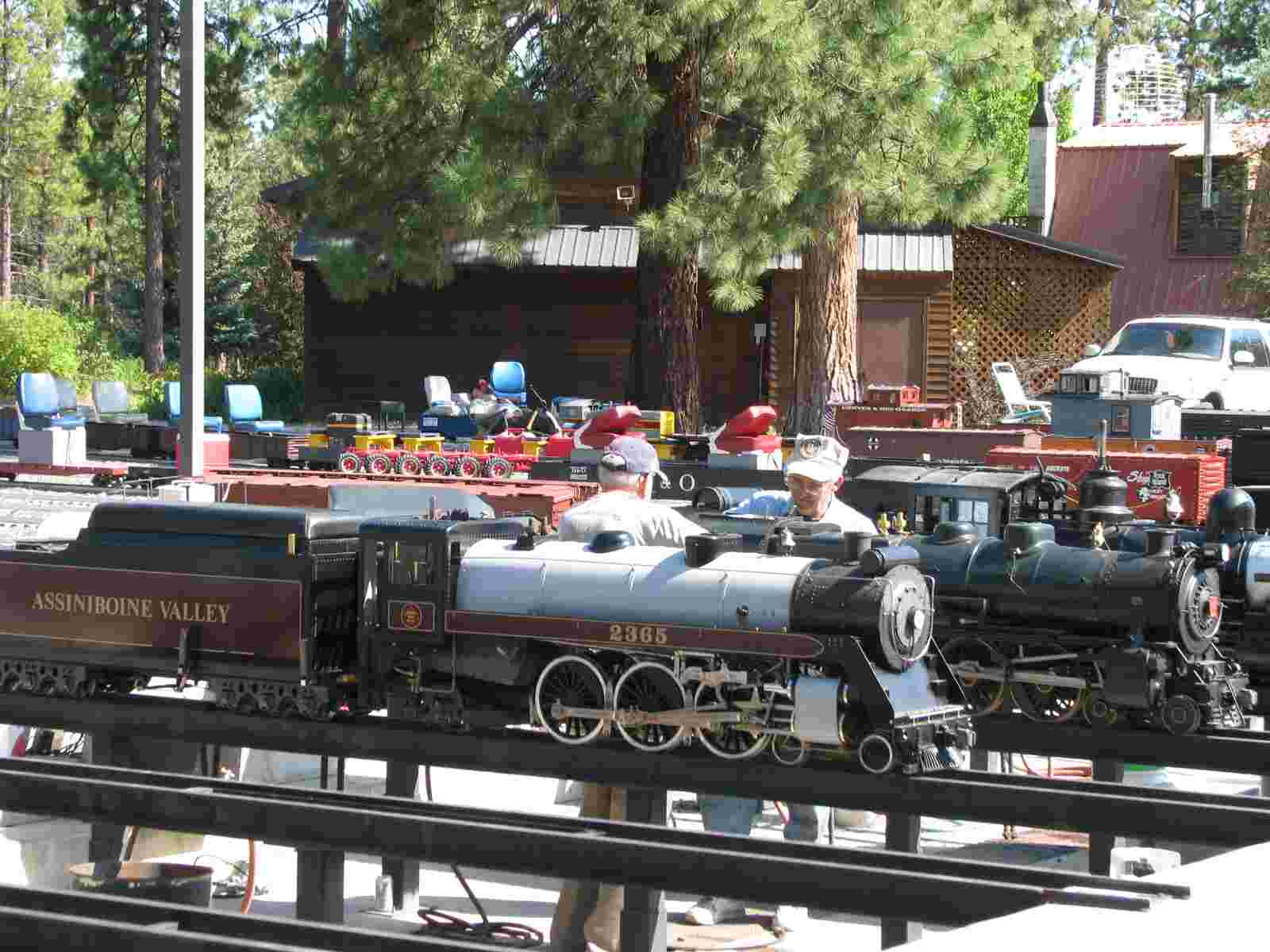 # 1 - AVR PACIFICS 2365 & 5427 IN CRISP YARD WAITING TO GET STEAMED.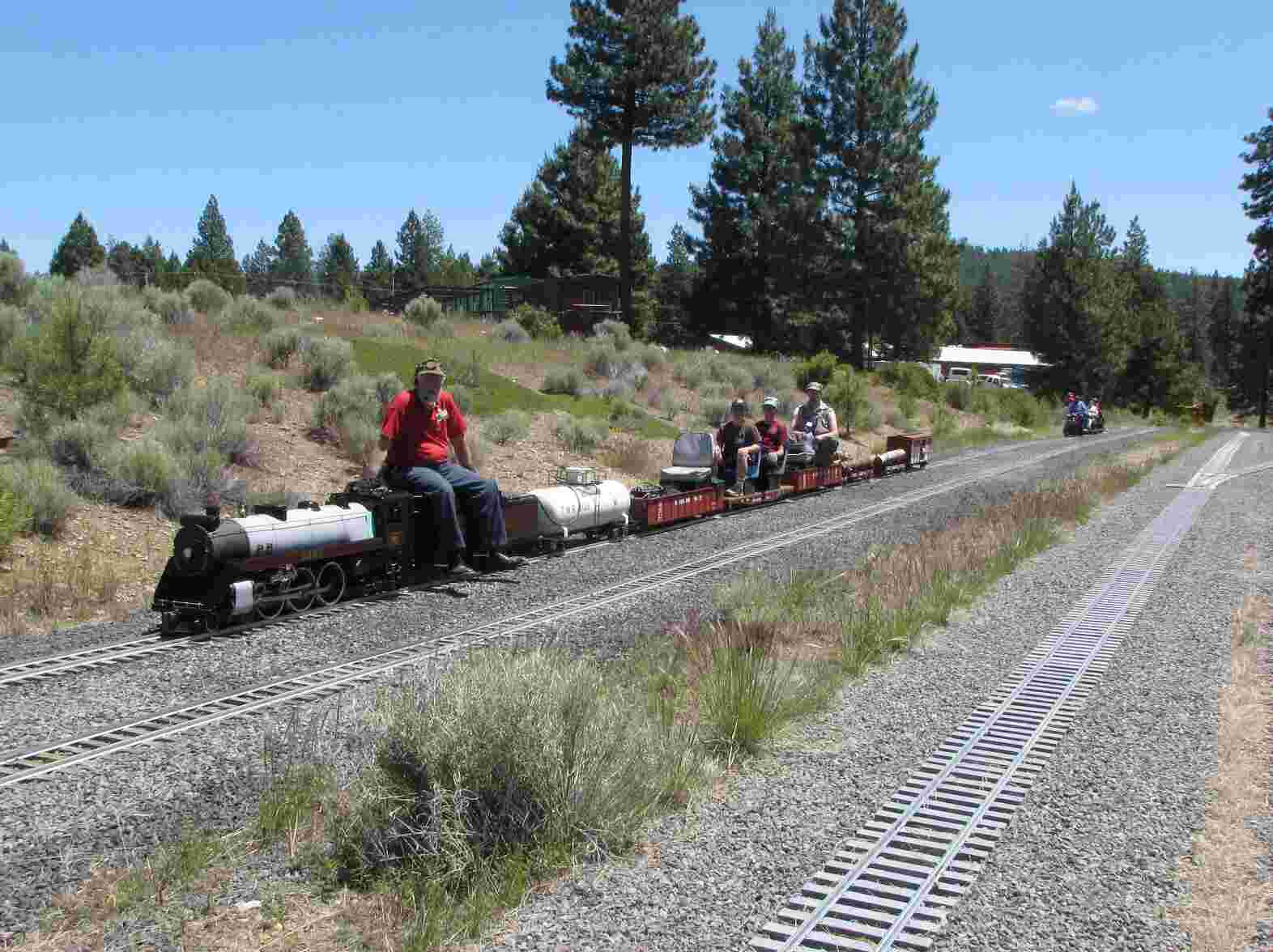 # 2 - AVR TRAIN 2365 IS WAITING ON THE MAIN AFTER COMING UP THE SERPENTINE BUT STOPPED FOR TRAFFIC AHEAD. BILL IS OPERATING ON THIS HOT DAY.
# 3 - VIC AND RALPH OUT FOR A RUN TO TEST 5427 THAT IS VIRTUALLY HAVING HER FIRST MAJOR RUN AFTER BEING BUILT IN THE AVR ENGINE HOUSE. VIC WAS THE MAIN BUILDER, BARRY DID A LOT OF PLUMBING AND CONTROL WORK, DWIGHT MADE THE LIGHTING CONTROLLER, PHIL DID THE BELL, RALPH CAME ALL THE WAY FROM CALGARY TO MAKE THE PROJECT POSSIBLE. MANY OTHER AVR MEMBERS CONTRIBUTED AS THEY WERE ABEL BUT VIC WAS THE ONE WHO SPENT PART OF ALMOST EVERY DAY FOR THE LAST TWO YEARS MAKING THIS GREAT LOCOMOTIVE READY FOR TRAIN MOUNTAIN 2009. MODELED AFTER A PENNSY K4 AND BUILT ON THE RUNNING GEAR STARTED IN CALIFORNIA.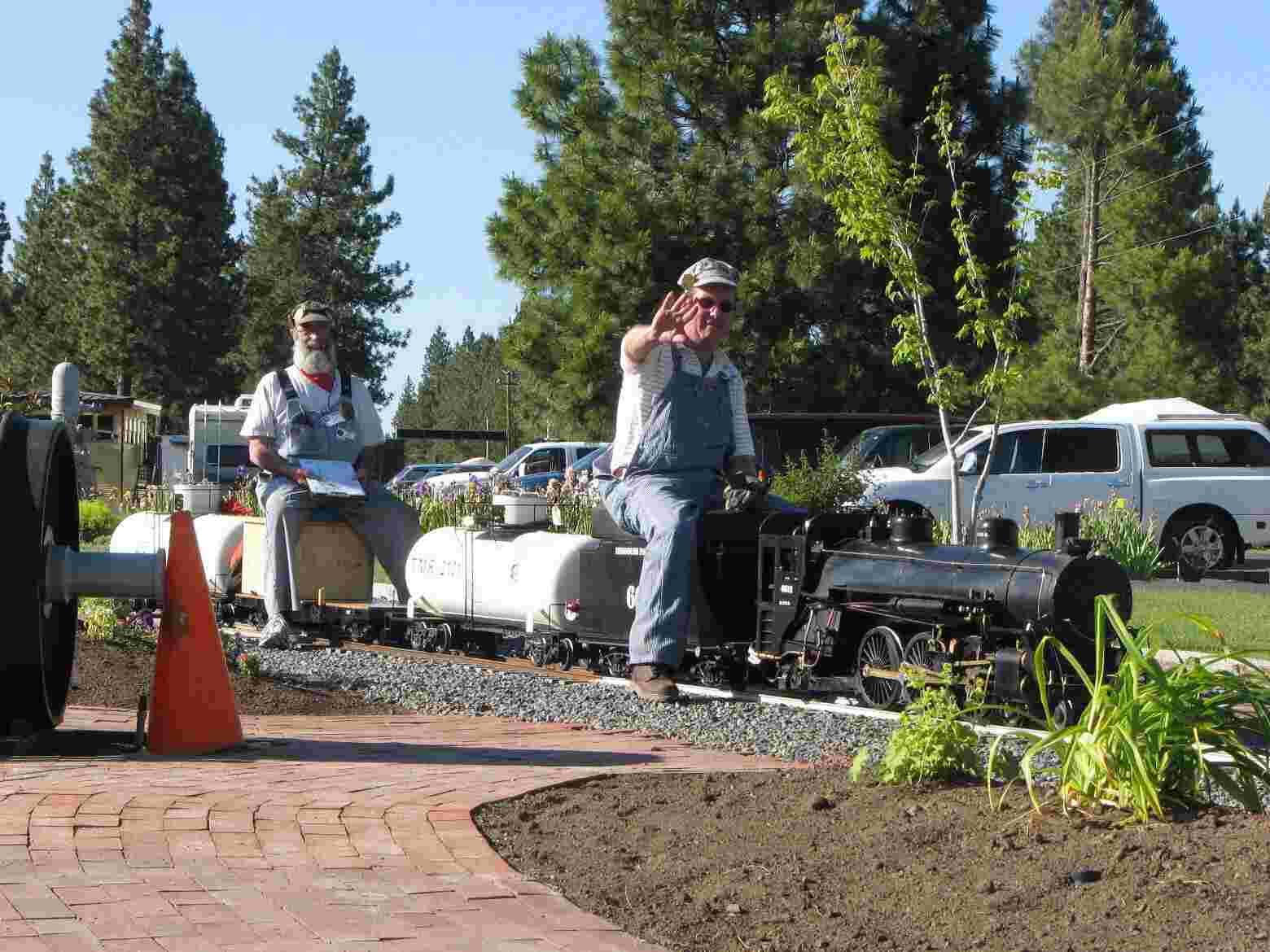 # 4 - PHIL SHAW'S PACIFIC MP 6612 WITH BARRY'S RIDING CAR AND LEN AS CONDUCTOR.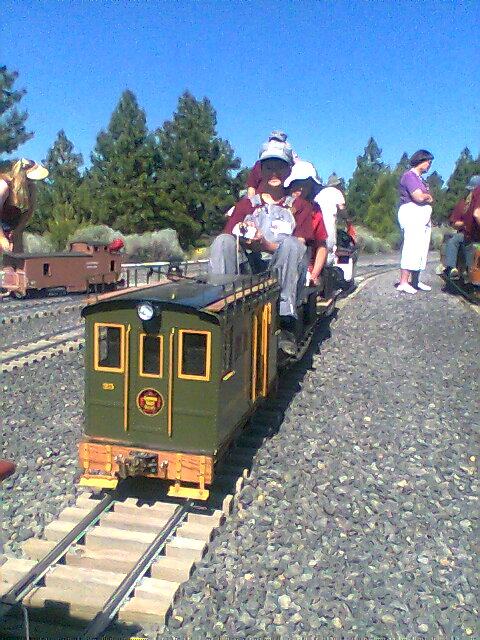 # 5 - THE AVR'S BOX CAB ELECTRIC #25 WAS A REAL HIT WITH JOSEPH AND AUGUST WHO RAN IT AROUND THE UPPER AREA OF TM. SHE PROVED HER ABILITIES ON A TRIP TO THE END OF TRACK AND BACK WITH NO PROBLEMS. ROB TOOK HER THERE AND GOT BACK BEFORE 2365.

# 6 - SOME OF THE CARS THAT THE AVR BROUGHT.

# 7 - AVR 5427 WAITS AT KLAMATH AND WESTERN BEHIND 2365 AS THE TWO TRAINS HEAD OUT FOR OUR SECOND TRIP TO THE END OF TRACK.
# 8 - DANNIELLE BACK FROM A TRIP WITH 1280 OUT OF THE ST. CROIX CLUB. THE LOCOMOTIVE DEVELOPED SUPER HEATER PROBLEMS AND DANNIELLE, DAN, BARRY, WHIT AND OTHERS REPAIRED THE OIL BURNER SO SHE COULD FIRE AND PULL. BARRY WAS PRESSED INTO SERVICE HELPING 1280, 6612, 5427, THE ATLANTIC AND STEVE'S PACIFIC.
# 9 - JOSEPH, AUGUST AND PHIL TAKING A RIDE BEHIND 2365.

# 10 - 2365 IS IN LINE FOR THE PARADE IN A SPOT TO GET OUT NEAR THE FRONT.
# 11 - AUGUST ON #25 GETTING INSTRUCTIONS FOR THE PARADE.
# 12 - VIC AND RALPH WITH 5427 ON THE SATURDAY PARADE, A PROUD MOMENT.
# 13 - BILL STEAMING UP 2365 WITH VIC BEHIND 5427 STEAMING IN PREPARATION FOR A TWO UNIT RUN TO THE END OF TRACK. NOTE SOME OF WHIT'S CARS IN THE BACKGROUND.
# 14 - 5427 CHUGS RIGHT ALONG. HANDLED THE GRADES WELL.
# 15 - JOSEPH AFTER A LONG HOT DAY OF WORKING AS CONDUCTOR.
RETURN TO THE AVR HOME PAGE AND LOTS MORE PICTURES. of other clubs we have visited and more about the ASSINIBOINE VALLEY RAILWAY and check out our New Pacific.
Page new on JULY 30th, 2009 by Bill Taylor of Winnipeg