THE AVR WENT TO TRAIN MOUNTAIN 2006 TRI-ANNUAL RAMBLE AT THE END OF JUNE. WE BROUGHT OUR TRAILER FULL OF EQUIPMENT AND TWO LOCOMOTIVES. OUR PACIFIC #2365, OUR F-7 #202, PETER'S WOOD CARS, CABOOSE, STOCK CAR, BOX CAR AND REFRIGERATOR CAR ALONG WITH THREE GONDOLAS AND AN OPERATORS CAR. MEMBERS OF THE CLUB FROM WINNIPEG WERE, BILL TAYLOR, PETER ABEL, VIC ST-GERMAIN, LEN LARUE, BARRY SOLOMON AND MARY-LOU TAYLOR. MEMBERS FROM THE AVR BUT FROM OTHER PLACES, QUENTIN BREEN, JACK ANDERSON, JJ ANDERSON, CLIFF PLUMPTON, WHIT JOHNSON, CARLA JOHNSON, TRUMAN HEFNER AND RALPH STEEVES.
ALL PICTURES TAKEN BY BILL TAYLOR OR MARY-LOU TAYLOR UNLESS NOTED. CLICK ON SMALL PICTURES TO MAKE THEM BIGGER If you can add names or details about equipment and people in the pictures please send them along. Just go to the AVR main page and click my e-mail
# 1 - AVR PACIFIC 2365 IN CRISP YARD WAITING TO GET STEAMED.
# 2 - AVR TRAIN 2365 IS WAITING ON A SIDING AFTER COMING DOWN THE SERPENTINE. WE STOPPED AT THIS POINT TO TAKE ON WATER EACH TIME WE CAME DOWN THE HILL.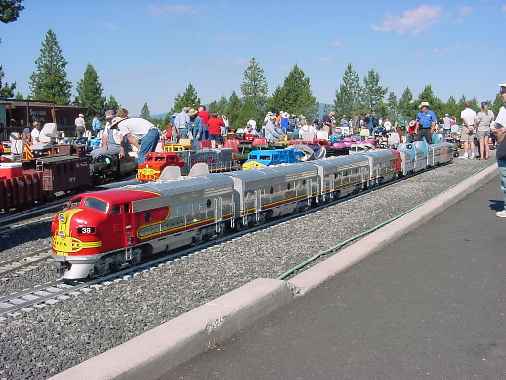 # 3 - TRUMAN HEFNER WHO IS A MEMBER OF THE ASSINIBOINE VALLEY RAILWAY BROUGHT HIS STRIKING A-B-B-A LASH UP WITH TWO PASSENGER CARS. ALL LOCOMOTIVES ARE POWERED SO WE KNOW WHAT OUR 202 WILL PULL, THIS CONSIST WILL PULL A MONSTER TRAIN. A LITTLE OVER POWERED FOR TWO CARS.
# 4 - A WONDERFUL LITTLE CNR MOGUL FROM EDMONTON, ALBERTA, CANADA.
# 5 - THE GREAT THING ABOUT TRAIN MOUNTAIN IS THE 300 OR SO TRAINS YOU MET ALONG THE WAY.
# 6 - THE BIG PARADE WAS HELD ON CANADA DAY JULY 1ST SO WE DID A LITTLE CELEBRATING WHEN EVER THE CHANCE AROSE.

# 7 - AT TRAIN MOUNTAIN EVEN THE FUEL DUMP AREA IS LARGE.
# 8 - NOW WE COULD USE THIS LOCOMOTIVE I WINNIPEG DURING THE WINTER RUNS.
# 9 - THE HIGH LITE OF THE TRI-ANNUAL IS THE SATURDAY PARADE. THESE ARE DELEGATES HEADING BACK TO THEIR TRAINS IN MAIN YARD.
# 10 - FUEL IS NO PROBLEM AT TM FOR THIS POT BELLY. HE BURNS PINE CONES FOUND ALONG THE TRACK.
# 11 - 2365 WAITS IN MAIN YARD FOR THE PARADE WITH 202 NEXT ON THE TRACK.
# 12 - PETER AND VIC WATCH 2365 ON CANADA DAY 2006.
# 13 - FILLING THE PROPANE TANK AT THE FUELING AREA.

# 14 - ONE OF THE REALLY NICE FEATURES AT TM IS ALL THE FINE BUILDINGS SITUATED IN TOWNS ALONG THE TRACKS.
# 15 - VIC ADDING WATER TO 2365 AFTER A TRIP DOWN THE HILL. PETER IS SUPERVISING THE OPERATION.
# 16 - PART OF THE FUN WAS TO WATCH OTHER TRAIN PASS.

# 17 - OUR CONSIST WAITING AT THE STATION.

# 18 - QUENTIN GREETING ALL THE PEOPLE WHO PARTICIPATED IN THE PARADE.
# 19 - TRUMAN, LEN AND BILL LOAD PETER'S REFRIGERATOR CAR FOR THE TRIP TO MEDFORD AND OUR NEXT STOP.
RETURN TO THE AVR HOME PAGE AND LOTS MORE PICTURES. of other clubs we have visited and more about the ASSINIBOINE VALLEY RAILWAY and check out our New Pacific.
Page new on January 26th, 2007 by Bill Taylor of Winnipeg