MEMBERS OF THE AVR WENT TO ST. CROIX FOR THEIR SPRING MEET WITH FOUR LOCOMOTIVES AND FOUR CARS AT THE END OF MAY. 2012. MEMBERS FROM THE AVR LIVING IN WINNIPEG WHERE BILL TAYLOR , BARRY SOLOMON, PHILIP & PAT SHAW, PHIL & BECKY MENDELSON AND IAN & CAROLINE BOWERING and several members from the AVR who come from other places were also there.
ALL PICTURES TAKEN BY BILL TAYLOR . CLICK ON SMALL PICTURES TO MAKE THEM BIGGER If you can add names or details about equipment and people in the pictures please send them along. Just go to the AVR main page and click my e-mail.
# 1 - AVR BOX CAB #25 WITH HOPPER CAR.
# 2 - AVR GP 9 READY TO LOAD BALLAST FOR THE NEW CAR BARN LEADS..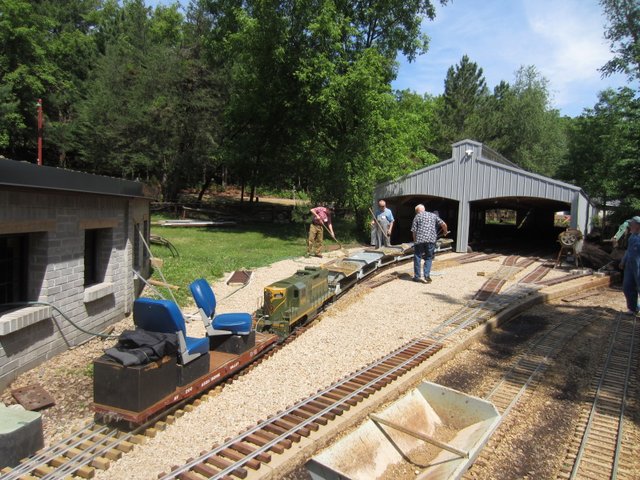 # 3 - AVR GP 9 # 3001 UNLOADING BALLAST ON THE NEW CAR BARN LEAD TRACKS.

# 4 - BARRY'S PACIFIC READY ON THE STEAMING BAY TURNTABLE BESIDE THE SHAW'S 1" TANK ENGINE.
# 5 - WHIT TESTING THE NEW RIDING CAR FOR TRAIN MOUNTAIN.
# 6 - HUDSON 500 IN STEAM AFTER A MAJOR OVERHAUL LAST WINTER.
# 7 - THE CHEF HARD AT WORK PREPARING MEALS FOR THE MEET ATTENDEES.
RETURN TO THE AVR HOME PAGE AND LOTS MORE PICTURES. of other clubs we have visited and more about the ASSINIBOINE VALLEY RAILWAY and check out our New Pacific.
Page new on JULY 15TH, 2012 by Bill Taylor of Winnipeg