MEMBERS OF THE AVR WENT TO ST. CROIX FOR THEIR FALL MEET WITH FOUR LOCOMOTIVES AND TWENTY FOUR CARS AT THE END OF SEPT. 2011 AND HAD A GREAT TIME. MEMBERS FROM THE AVR LIVING IN WINNIPEG WHERE BILL TAYLOR & MARY-LOU TAYLOR, LEN LaRUE, BARRY SOLOMON, PHILIP & PAT SHAW, PHIL & AUGUST MENDELSON AND IAN & CAROLINE BOWERING and several members from the AVR who come from other places were also there.
ALL PICTURES TAKEN BY BILL TAYLOR & MARY-LOU TAYLOR . CLICK ON SMALL PICTURES TO MAKE THEM BIGGER If you can add names or details about equipment and people in the pictures please send them along. Just go to the AVR main page and click my e-mail.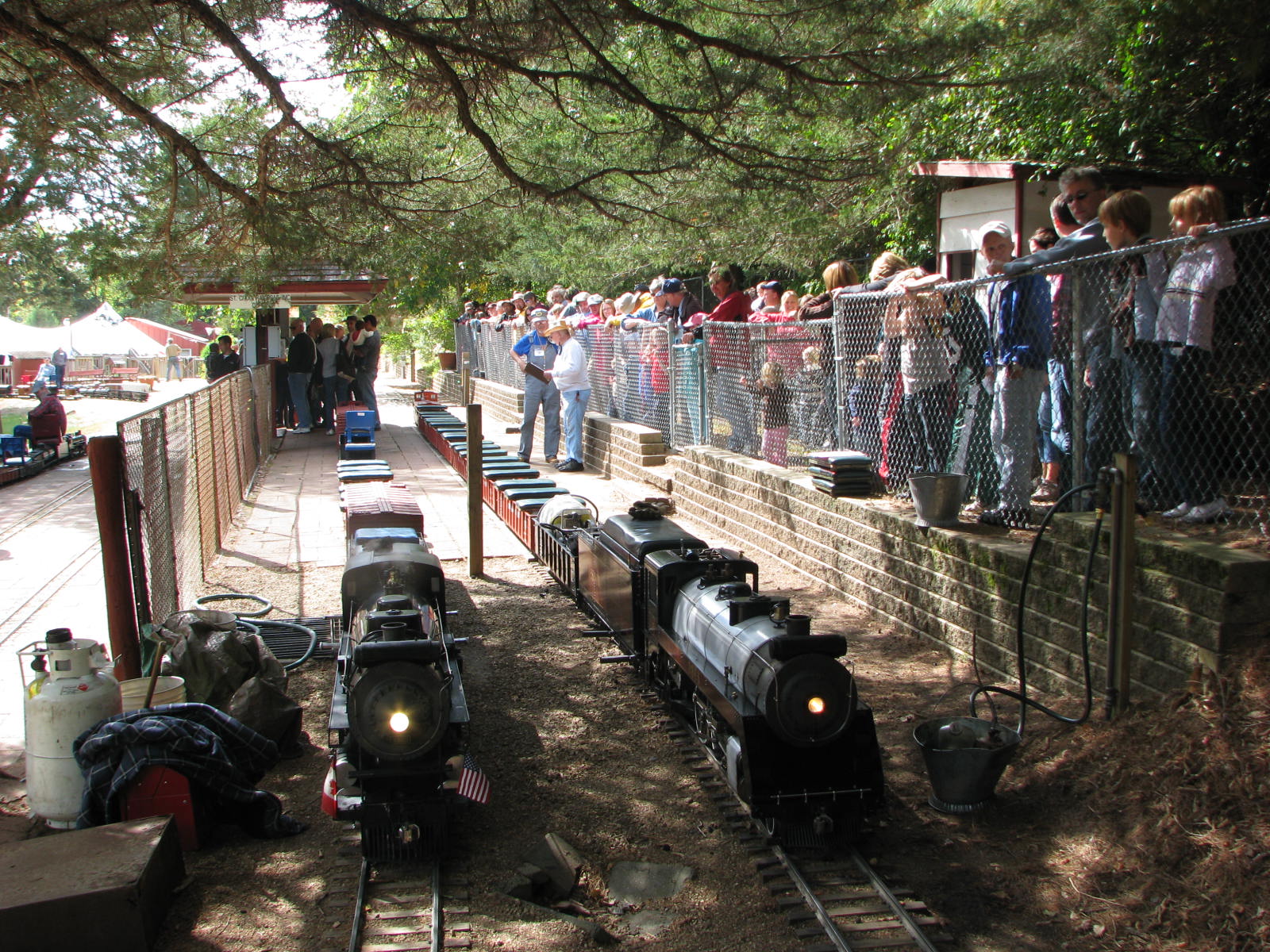 # 1 - AVR PACIFIC 2365 AND CPR MIKADO 5303 WAIT FOR PASSENGERS ON THE SUNDAY PUBLIC RUN.
# 2 - AVR PACIFIC 2365 WITH PHIL AT THE CONTROLS TAKES A LOAD OF HAPPY PASSENGERS.
# 3 - AVR TRAIN CPR # 5303 WITH LEN AT THE CONTROLS TAKING ANOTHER LOAD OF HAPPY PASSENGERS.

# 4 - BARRY'S PACIFIC READY ON THE STEAMING BAY TURNTABLE.
# 5 - LEN LOADING THE SIDE DUMP CARS FOR BALLAST AT THE NEW YARD BEHIND THE ROUNDHOUSE.
# 6 - AVR PACIFIC 2365 MOVING FILL AND BALLAST TO THE NEW CONSTRUCTION AREA BEHIND THE ROUND HOUSE. WE MOVED ROCK FOR TWO DAYS.
# 7 - CHUCK'S NORTHERN ON THE STEAMING BAY.
# 8 - A CLIMAX AT THE MEET.

# 9 - LEN WITH HIS MAKADO ON THE STEAMING BAY TRACK.
# 10 - ONE OF THE BEST PARTS OF THE ST. CROIX MEET IS ALL THE FOOD WE GET TO EAT.

# 11 - MEETING PEOPLE OLD AND NEW IS AN ENJOYABLE PART OF ANY MEET.
# 12 - CARLA AND WHIT'S COBBLER IS ALWAYS A HIT AT SUPPER.
# 13 - LOTS OF TALK IN THE CLUB HOUSE.

# 14 - SOME OF THE KITCHEN CREW.
# 15 - A FATHER AND SON.
# 16 - BILL GETTING 2365 OFF THE TURNTABLE ONTO THE LINE.

# 17 - BILL COOKING MONDAY MORNING BREAKFAST BEFORE LOADING FOR THE TRIP HOME.
# 18 - LEN LOADING A STACK OF GONDOLAS INTO THE AVR TRAILER.
RETURN TO THE AVR HOME PAGE AND LOTS MORE PICTURES. of other clubs we have visited and more about the ASSINIBOINE VALLEY RAILWAY and check out our New Pacific.
Page new on FEB 20TH, 2012 by Bill Taylor of Winnipeg