THE AVR WENT TO ST. CROIX FOR THEIR FALL MEET WITH TWO LOCOMOTIVES AND SIXTEEN CARS FROM SEPT. 26th to OCT. 1st. 2007 AND HAD A WONDERFUL TIME. MEMBERS FROM THE AVR LIVING IN WINNIPEG WHERE BILL TAYLOR, LEN LaRUE, VIC ST-GERMAIN, BARRY SOLOMON, RALPH STEEVES, PHIL & BECKY MENDELSOHN AND PHILIP SHAW and several members from the AVR who come from other places were also there.
ALL PICTURES TAKEN BY BILL TAYLOR UNLESS NOTED. CLICK ON SMALL PICTURES TO MAKE THEM BIGGER If you can add names or details about equipment and people in the pictures please send them along. Just go to the AVR main page and click my e-mail.
# 1 - THE ST CROIX CLUB RELOCATED THEIR WATER TOWER TO A MORE VISIBLE PLACE ALONG THE 1/8TH LINE WHERE IT STANDS WITH A NEW BASE AND COAT OF PAINT.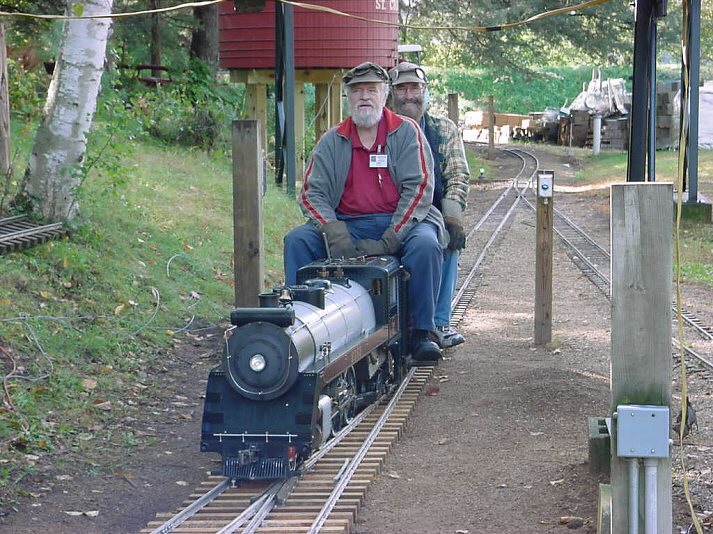 # 2 - AVR PACIFIC 2365 IS THE FIRST STEAM TRAIN TO TEST OUT THE NEW HIGH SPEED LINE BEHIND THE ROUNDHOUSE. AT THE THROTTLE IS BILL TAYLOR, PRESIDENT OF THE ASSINIBOINE VALLEY RAILWAY AND LEN LA RUE VP OF THE AVR. THANKS TO ALL THOSE WHO WORKED TO GET THIS NEW TRACK IN BEFORE THE FALL MEET.
# 3 - AVR TRAIN #2365 HAS MADE IT ACROSS THE NEW LINE ON THE 27TH. SEPTEMBER 2007. THIS LINE BECAME THE SPEEDWAY DURING THE MEET WITH DAN AND 1280 PROBABLE HOLDING THE RECORD. OTHERS WERE NOT FAR BEHIND.
# 4 - 1280 WITH DAN ON THE CONTROLS PASSES 2365 NEAR THE STATION. NICE TO SEE THE OLD GIRL UP AND RUNNING.

# 5 - LOTS OF ACTION ON A NICE DAY AT ST. CROIX STEAMING TRACKS.
# 6 - BARRY GOT THE ATLANTIC UP AND RUNNING AS JACK ANDERSON WAS CHIEF COOK (YUM YUM) FOR THE MEET AND HAD NO TIME BETWEEN BREAKFAST, LUNCH AND SUPPER TO CLEAN AND STEAM AN ENGINE, NOT THAT JACK WAS NOT SMOKING. HE HAD HIS SMOKER LOADED WITH SOME TYPE OF MEAT ALL MEET LONG. BARRY IS GIVING MAUREEN A RIDE.
# 7 - IF YOU WANTED TO FIND TIM, THE ST. CROIX'S HARD WORKING PRESIDENT JUST LOOK FOR HIS COMPUTER. I NEVER REMEMBER HIM ANY PLACE ELSE ALL MEET LONG. MAUREEN IS BEHIND THE DESK.
# 8 - AVR TRAIN #2365 HAS BEEN PRESSED INTO SERVICE AS A BALLAST TRAIN AND SITS READY FOR THE CREW TO LOAD HER UP. ASSINIBOINE VALLEY LOCOMOTIVES HAVE HAULED A LOT OF ROCK OVER THE YEARS AT THE ST. CROIX.
# 9 - A HARD WORKING CREW LOADS SURPLUS ROCK FROM THE SIDE TO BE USED FARTHER DOWN THE LINE WHERE NEEDED.

# 10 - MORE ROCK IS LOADED INTO ST. CROIX FIVE SIDE DUMP HOPPERS.
# 11 - HARD WORKING CREW HELPS TO KEEP THE TRAINS RUNNING.
# 12 - SERVING WHIT AND CARLA'S GREAT CHILI. IT COMES IN LOW MEDIUM AND HIGH FIRE. IF YOU TRY THE HIGH FIRE IT WILL HELP WHEN STEAMING UP YOUR COAL BURNER. AS 2365 IS A PROPANE BURNER I SETTLE FOR THE LOW AS ANY SPARK WILL GET THE FIRE BURNING.
# 13 - SHOWING THE FLAG ON THIS SWITCHER.

# 14 - NICE LOOKING GEARED LOCOMOTIVE.
# 15 - NEAT PIECE OF PASSENGER EQUIPMENT ON THE 1 INCH LINE. A 1" SCALE SANTA FE DOODLE-BUG, SCRATCH BUILT BY GEORGE WALENTER FROM WAUKEGAN, ILLINOIS WHO IS ALSO OPERATING IT.
# 16 - WHIT AND CARLA ARRIVE WITH AN 18 FOOT TRAILER FILLED WITH 17 CARS AND THE PACIFIC. THAT FAMOUS COBBLER MAKING EQUIPMENT, COOKING POTS AND CHILI.
# 17 - ON A SUNNY DAY THERE ARE ALWAYS PEOPLE AT THE BAY JUST ENJOYING THE TRAINS. TODAY WAS NO EXCEPTION.

# 18 - NOW HOW'S THAT, JACK'S ATLANTIC WITH WHIT'S PACIFIC PULLING WHIT'S TRAIN. STEAMS UP SO LETS GET GOING. J.J. ANDERSON IS ON THE POINT WITH JOHN LARKIN GETTING ON BEHIND JJ.

# 19 - NEED A PUSH, WHO LEFT ALL THAT OIL ON THE CROSSING.
# 20 - CHUCK WITH HIS PASSENGER TRAIN AND POWERFUL UP NORTHERN. CHUCK IS WORKING ON VERSION THREE OF THE TRAILER SO IT WILL BE SELF UNLOADING.
# 21 - LOTS OF ACTION ON THE 1 INCH LINE. IT HAS BEEN SAID THAT THE ST. CROIX 1/12 TRACK IS ONE OF THE FINEST IN NORTH AMERICA. I TEND TO AGREE WITH THIS COMMENT.
# 22 - I TOOK A RIDE UP THE 1 INCH AND HAD A GREAT RIDE AT THE REAR OF THE SANTA FE. THE BRIDGES ARE SPECTACULAR.

# 23 - UNDER AND OVER. A GREAT RIDE. THE GRADE MAKES YOU WORK.
# 24 - FOR WET DAYS A SANDER HAS BEEN TESTED.
# 25 - THEY COME IN ALL SHAPES AND SIZES. TRAIN WATCHERS THAT IS. SOME TIMES THE BEST PART OF A MEET IS JUST TO SIT AND WATCH ALL THE ACTION.

# 26 - OTHER TIMES ITS HOLDING UP THE FENCE WITH A GOOD CONVERSATION.

# 27 - BUT BEST OF ALL ITS ALL THE GREAT FOOD.
# 28 - OR A FATHER AND SON MOMENT.
# 29 - WHIT'S 2856 WITH A GOOD FIRE GOING. READY FOR ACTION.
# 30 - CHUCK HACKETT AND HIS WIFE JOAN STEAM PAST BACK IN THE BUSH. HAPPY DAYS ARE HERE AGAIN.
# 31 - PHIL SHAW WITH HIS SON'S STEAMER. TOO BAD STEPHEN HAD TO WORK.
#32 - READY FOR RIDERS WITH THIS 1" STRING OF RIDE ASTRIDE CARS.
#33 - TOMMY TIRELESSLY WORKS TO KEEP THE SIGNAL AND SWITCHES WORKING AT THE ST. CROIX RAILROAD.

#34 - AT A MEET PEOPLE GATHER TO TALK TRAINS MORNING, NOON AND NIGHT.

#35 - TRAINS, FOOD, CONVERSATION. NOW THAT IS THE LIFE.
#36 - THE CLUB DIESEL, WILL IT EVER RUN. NEEDS A NEW COOLING SYSTEM.
#37 - LEN FROM AVR REPLACING A DAMAGED TIE AT THE ROUNDHOUSE.
#38 - BILL KEPT THE DAILY MEET PICTURES UP AT THE STATION ON THE LAP TOP.
#39 - SANTA FE 1/8 DIESEL AND TRAIN HEADING INTO STATION.
#40 - THE ATLANTIC STEAMS INTO STATION.
#41 - LOOK MA! NO HANDS.

#42 - JACK & DOUG WILKINS' SMOKER DOING UP STEAKS FOR SATURDAY SUPPER.

#43 - IN LINE FOR SUPPER.
#44 - MORE IN LINE FOR SUPPER.
#45 - WILL THERE BE ANY LEFT WHEN WE GET THERE???

#46 - AT YOU SERVICE WITH A SMILE.

#47 - SERVING COBBLER AFTER A GREAT STEAK.
#48 - MORE EATING.
#49 - THE AVR TRAINS #6109 AND #2365 WITH DOUBLE STACKED GONDOLAS READY FOR THE TRIP HOME. THE SUNDAY OPEN HOUSE WAS A WASHOUT DUE TO VERY HEAVY PERSISTENT RAIN BUT THE TWO AVR TRAINS WERE ON DECK AND PERSEVERED THROUGH THE RAIN TO GIVE 271 RIDES TO THE ST. CROIX PUBLIC. DUE TO THE RAIN NO PICTURES GOT TAKEN. 2365 HANDLED 20 PLUS PASSENGERS WITH NEVER A SLIP AND 6109 HANDLED 12 AT A TIME. NO NEED FOR WATER STOPS JUST LEAVE THE TENDER OPEN. TIM HAD HIS NARROW GAUGE ON THE 1 INCH LINE FOR A FEW TRIPS BUT THE STEADY RAIN MADE IT IMPOSSIBLE TO CONTINUE. ONE COMMENT HEARD AT LUNCH IS THERE WERE TWO CLASSES OF NUTS THIS DAY. THE FIRST WAS THE PUBLIC WHO THOUGHT WE WOULD BE RUNNING IN THE RAIN AND SECOND WAS US WHO WERE IN FACT NUTS FOR RUNNING IN THE RAIN BUT THEN WE KNOW THAT. THE ASSINIBOINE VALLEY RAILWAY'S MOTTO IS "ROUTE OF THE HAZEL NUTS" WE ROSE TO THE CHALLENGE AND MET IT WITH A SMILE. ADDED A NEW RULE "TAKE YOUR UMBRELLA DOWN BEFORE ENTERING TUNNELS"
#50 - THE BIG STEPS DOWN FROM TRACK LEVEL TO TRAILER.
#51 - BILL DOING THE LAST TIE DOWN BEFORE THE TRIP TO WINNIPEG.
RETURN TO THE AVR HOME PAGE AND LOTS MORE PICTURES. of other clubs we have visited and more about the ASSINIBOINE VALLEY RAILWAY and check out our New Pacific.
Page new on October 8th, 2007 by Bill Taylor of Winnipeg Updated Oct 14th, 2007