THE AVR WENT TO ST. CROIX FOR THEIR FALL MEET WITH TWO LOCOMOTIVES AND TWELVE CARS FROM SEPT. 21st to 26th AND HAD A WONDERFUL TIME. MEMBERS FROM THE AVR LIVING IN WINNIPEG WHERE BILL TAYLOR, LEN LaRUE, BARRY SOLOMON and several members from the AVR who also come from other places were also there.
ALL PICTURES TAKEN BY BILL TAYLOR UNLESS NOTED. CLICK ON SMALL PICTURES TO MAKE THEM BIGGER If you can add names or details about equipment and people in the pictures please send them along. Just go to the AVR main page and click my e-mail
# 1 - AVR PACIFIC 2365 AFTER UNLOADING SITS ON A STEAMING TRACK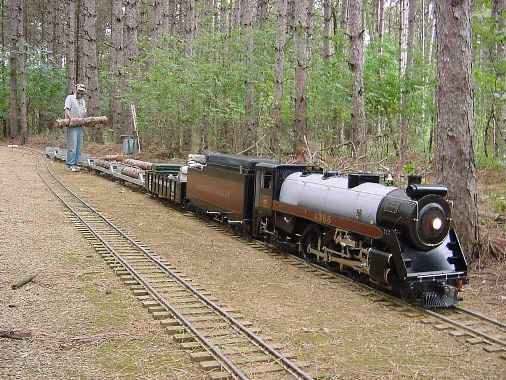 # 2 - AVR TRAIN 2365 IS HARD AT WORK ON THE SCRR MOVING LOGS FROM THE FAR SIDE OF THE RAILWAY. ENGINEER BILL TAKES PICTURE WHILE LOADMASTER LEN FILLS THE CARS. AVR CREWS ARE ALWAYS READY TO HAUL PEOPLE OF MATERIALS.
# 3 - JACK ANDERSON WHO IS A MEMBER OF THE ASSINIBOINE VALLEY RAILWAY HEADS UP A TRAIN FULL OF PUBLIC ON THE SUNDAY OPEN HOUSE AT ST. CROIX. AVR TRAIN 2365 AND 3001 PULLED ALL THE PUBLIC ON THE 1/8TH LINE ON SUNDAY. THE PACIFIC MADE 22 TRIPS AND CARRIED 390 PEOPLE WHILE 3001 OUR GP9 MADE 19 TRIPS AND CARRIED 227 PASSENGERS FOR A TOTAL OF 617. THE THREE ENGINEERS TOOK THREE TRIPS ON EACH TRAIN AND THEN HAD A THREE TRIP BREAK ALL AFTERNOON. ST CROIX MEMBERS LOOKED AFTER CONDUCTORS AND STATION CREW WHILE OTHER ENGINEERS CONCENTRATED ON THE 1/12TH LINE.

# 4 - FOUR PACIFICS THUNDER OVER TWIN BRIDGES WITH A LONG TRAIN AND 50 PASSENGERS. AVR 2365 IS PLACED 1/3 BACK JUST BEFORE THE PASSENGERS. A TOTAL OF FIVE PACIFICS. PICTURE BY LEN

# 5 - THE BIG TRAIN WORKING THE GRADE INTO THE STATION. PICTURE BY LEN
# 6 - BILL TAYLOR WORKING AVR #2365 UP THE HILL PAST THE STATION IN THE 1/3 BACK POSITION. LATER WHEN THEY PULLED OF THE FOUR PACIFICS AT THE POINT 2365 PROVED HER STRENGTH BY PULLING THE WHOLE TRAIN ALONE UP THE HILL.

# 7 - LOTS OF ACTION ON A TYPICAL MEET DAY ON THE STEAMING BAY AT ST. CROIX.
# 8 - AT ST. CROIX THERE IS ALWAYS LOTS OF ACTION ON THE 1" LINE. IN MY OPINION IT IS ONE OF THE FINEST IN NORTH AMERICA. PERSON IN PICTURE IS DAVE GUMZ FROM CALIFORNIA.
# 9 - A HUSBAND AND WIFE TEAM LOVES TO RUN TRAINS ON THE 4.3/4 LINE. CLAIRE & STEVE TITUS FROM LINCOLN, NEBRASKA.
# 10 - BILL HAS STOPPED 2365 ON TWIN BRIDGE WHILE LEN UNLOADS BRICKS FOR USE ON THE 1/12 CAR BARN PROJECT.
# 11 - THE SCRR IS HARD AT WORK BUILDING ITS NEW 1/12 CAR STORAGE BARN. IT WILL HOLD A LOT OF EQUIPMENT.

# 12 - A DEDICATED GROUP OF ROOFERS PERSISTED ALL WEEK AND BY SUNDAY THE ROOF WAS COMPLETE. FAR LEFT ?, STANDING CHUCK PARK FROM SOUTH DAKOTA, BOB PAPPA AND BILL SCHIMMELMAN.
# 13 - AT ST. CROIX WE RUN TRAINS AND EAT AND RUN TRAINS AND EAT. FRIDAY SUPER WE ALL CONSUMED STEAK COOKED UP BY JACK ANDERSON.
# 14 - MORE PEOPLE EATING. WHIT JOHNSON (LOWER LEFT) ?,?, CARLA JOHNSON, (UPPER RIGHT) KATHY WILKEN ALL FROM NEWTON, IOWA AND MR. BUSH FROM OMAHA.

# 15 - STILL MORE PEOPLE EATING. DAN AKINS IN RED AND ?.
# 16 - MORNINGS AT THE ST. CROIX ROUNDHOUSE ARE ALWAYS EXCITING FOR STEAM BUFFS.

# 17 - ST. CROIX'S NEW SIDE DUMP CARS ARE PROVING TO BE VERSATILE AS THEY ARE CONVERTED BY AVR CREW INTO LOG CARRYING CARS

# 18 - NOW WE WILL HAVE NONE OF THAT ON THIS TRAIN. BOTH AVR TRAINS WERE PRESSED INTO SERVICE TO LOOK AFTER TWO GROUPS OF SCHOOL KIDS WHO CAME FOR A RIDE ON THE ST. CROIX RAILWAY. THE ASSINIBOINE VALLEY RAILWAY IS ALWAYS WILLING TO CARRY PASSENGERS. SINCE 1996 OUR TRAINS HAVE CARRIED 114,000 PEOPLE PLUS CREW.
# 19 - ONE OF ST. CROIX'S NICEST LOOKING ENGINEERS GETS A LOCO READY TO RUN. DANIELLA BISSONNETTE AND JOHN LaFAVOR.

# 20 - NOTHING IS MORE ENJOYABLE AT A MEET THEN TALKING ABOUT TRAINS AND BEING WITH OTHERS WHO LOVE TRAINS. DANIELLE BISSONNETTE, TIM OLSON, DAN BISSONNETTE AND TOMMY CEBBULA.

# 21 - I SPOKE TO SOON, NOTHING IS MORE ENJOYABLE AT A MEET THAN TALKING ABOUT TRAINS AND BEING WITH OTHERS WHO LOVE TRAINS AND LINING UP FOR GREAT FOOD. CHARLIE MINEAU FROM GREEN BAY, TIM OLSON, STEVE MUSCATO, MELISSA REYNOLDS.

# 22 - ESPECIALLY WHEN IT IS DEVINE SWINE THAT WE ARE ABOUT TO PIG OUT ON. HAVING THE MEETING AFTER ALL THAT FOOD WAS ALSO A GREAT IDEA AS THE POLITICIANS HAD A CAPTIVE AUDIENCE. LEN LaRUE FROM WINNIPEG, KATHY & DOUG WILKEN FROM NEWTON, IOWA, ????

# 23 - IF YOU ARE AT THE END OF THE LINE THERE IS ALWAYS ONE CONCERN. WILL THERE BE FOOD LEFT. CLIFF HUDSON, DAVE JOHNSON FROM VIRGINIA, BRUCE SAYLOR FROM PENNSYLVANIA, MEGHAN KELLIHER, JJ ANDERSON, ?
# 24 - AT THE ST. CROIX ON SUNDAYS YOU CAN ALWAYS BE ASSURED THAT YOUR TRAINS WILL BE FULL.

# 25 - LEN RUNS AVR 3001 WITH A FULL LOAD OF PASSENGERS INTO THE STATION.

# 26 - On Saturday the St. Croix club treated us to a great pig roast. The victim.
RETURN TO THE AVR HOME PAGE AND LOTS MORE PICTURES. of other clubs we have visited and more about the ASSINIBOINE VALLEY RAILWAY and check out our New Pacific.
Page new on January 13th, 2006 by Bill Taylor of Winnipeg