THE AVR WENT TO KITSAP IN WASHINGTON AS THE THIRD STOP ON THE RAMBLE JULY 8TH, 2006. WE BROUGHT OUR TRAILER FULL OF EQUIPMENT AND TWO LOCOMOTIVES. OUR PACIFIC #2365, OUR F-7 #202, PETER'S WOOD CARS, CABOOSE, STOCK CAR, BOX CAR AND REFRIGERATOR CAR ALONG WITH THREE GONDOLAS AND AN OPERATORS CAR. WE UNLOADED OUR TWO LOCOMOTIVES, ONE GONDOLA, ONE OPERATOR CAR AND PETER'S STOCK CAR. MEMBERS OF THE CLUB FROM WINNIPEG WERE, BILL TAYLOR, PETER ABEL, VIC ST-GERMAIN, LEN LARUE AND MARY-LOU TAYLOR.
WE SELECTED SOME CHRISTMAS MUSIC TO GO WITH THESE PICTURES AS ARRIVING IN WASHINGTON WAS A GREAT RELIEF AFTER COOKING IN THE 100'S IN OREGON FOR TEN DAYS. YOU MIGHT SAY WE WERE PLEASED WITH THE COOLER TEMPERATURE.
ALL PICTURES TAKEN BY BILL TAYLOR OR MARY-LOU TAYLOR UNLESS NOTED. CLICK ON SMALL PICTURES TO MAKE THEM BIGGER If you can add names or details about equipment and people in the pictures please send them along. Just go to the AVR main page and click my e-mail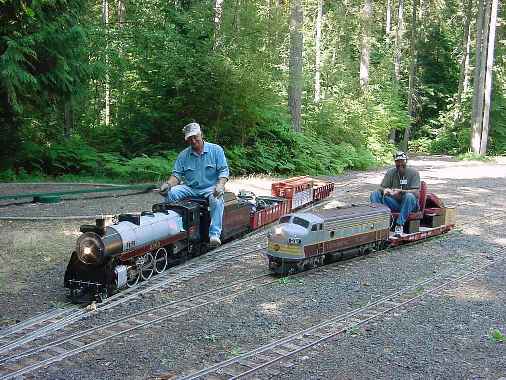 # 1 - AVR PACIFIC 2365 AT KITSAP WITH VIC ON THE TENDER AND F-7 #202 WITH LEN AT THE CONTROL.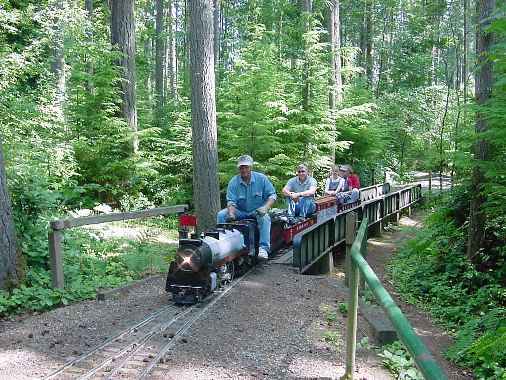 # 2 - VIC TAKING 2365 OVER THEIR BRIDGE WITH A FEW RIDERS.
# 3 - LINDSAY MCDOWEL AND BILL TAYLOR TALK ABOUT LINDSEY'S GREEN ENGLISH LOCOMOTIVE.

# 4 - THE COLOUR MAKES THIS LITTLE ENGINE STAND OUT.
# 5 - PETER SHOWING OFF HIS STOCK CAR WITH SOUND AND COWS. NOW ALL WE NEED IS THE SMELL.
RETURN TO THE AVR HOME PAGE AND LOTS MORE PICTURES. of other clubs we have visited and more about the ASSINIBOINE VALLEY RAILWAY and check out our New Pacific.
Page new on January 26th, 2007 by Bill Taylor of Winnipeg