THE AVR WENT TO THE CENTRAL OREGON AREA LIVE STEAMERS IN BEND OREGON AS OUR SECOND STOP ON THE RAMBLE JULY 1ST & 2ND, 2012. WE BROUGHT OUR TRAILER FULL OF EQUIPMENT AND TWO LOCOMOTIVES. BILL'S PACIFIC #2365, AND LEN'S MYCADO 5303. WE ONLY UNLOADED 2365 ALONG WITH TWO GONDOLAS, AN ORE CAR AND CABOOSE. MEMBERS OF THE CLUB FROM WINNIPEG WERE, BILL TAYLOR, AND LEN LA RUE. WHILE AT THE TRACK WE CHECKED OUT THE EXTENSIVE EASTERN CASCADES MODEL RAILROAD CLUB
ALL PICTURES TAKEN BY BILL TAYLOR UNLESS NOTED. CLICK ON SMALL PICTURES TO MAKE THEM BIGGER If you can add names or details about equipment and people in the pictures please send them along. Just go to the AVR main page and click my e-mail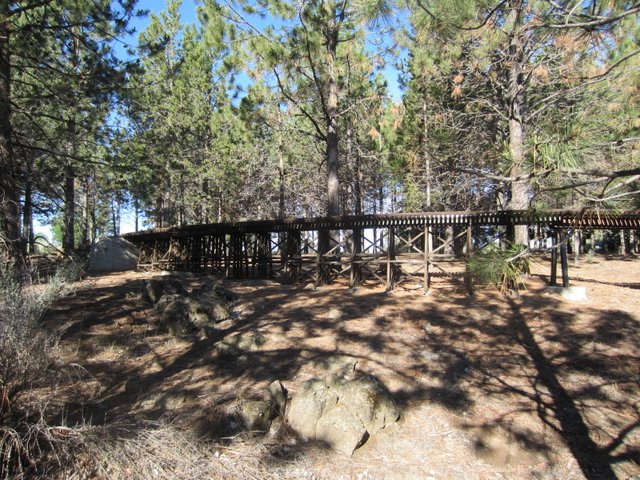 # 1 - BEND'S MOST SIGNIFICATE FEATURE IS THIS GREAT TRESTLE UP IN THE TREED AND HILLY AREA.

# 2 - LEN ON 2365 MAKING HIS WAY TO THAT TRESTLE WITH A SMALL LOAD OF PASSENGERS.
# 3 - A BIRDS EYE VIEW OF THE NICE STEAMING BAY AND SEVERAL MORE TRESTLES.
# 4 - A VIEW OF THEIR UNLOADING TRANSFER TABLE THAT IS ALAS NOT LONG ENOUGH TO TAKE THE PACIFIC OFF IN ONE PIECE BUT ALSO NEEDS THEIR RESIDENT YELLOWSTONE TO BE SPLIT UP. WHILE THERE, TWO TRAILERS OF CLUB MEMBERS EQUIPMENT ARRIVED FROM TRAIN MOUNTAIN..

# 5 - PART OF THE EXTENSIVE HO LAYOUT IN THE CLUB HOUSE.
RETURN TO THE AVR HOME PAGE AND LOTS MORE PICTURES. of other clubs we have visited and more about the ASSINIBOINE VALLEY RAILWAY and check out our New Pacific.
Page new on JULY 16th, 2012 by Bill Taylor of Winnipeg