AVR # 2365 ARRIVES IN WINNIPEG AND NEW ENGINE HOUSE FLOOR IS POURED. IT ALL MADE FOR AN EVENTFUL WEEK AT THE AVR. THE NEXT TWO DAYS WE HAD OUR JULY OPEN HOUSE AND STEAM WAS KING. THE SMALLER PICTURES BELOW CAN BE ENLARGED BY CLICKING ON THE PICTURE.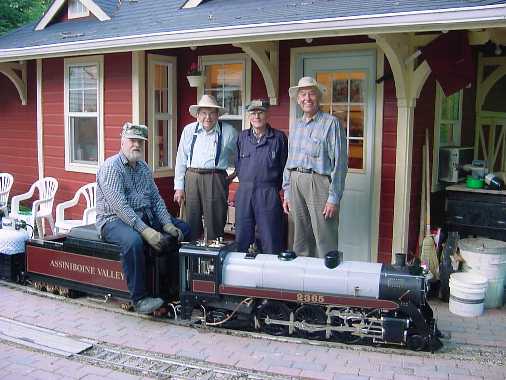 AVR 2365 OFFICIALLY ARRIVES AT CHARLESWOOD STATION AFTER BILL RUNS HER FROM THE LOADING SPUR. THOSE STANDING ARE ARTHUR, CLIFF AND PETER. IT IS FRIDAY JULY 9TH, 2004.

AVR 2365 IS ON TRACK TWO OF THE STEAMING BAY GETTING READY FOR INSPECTION ON JULY 8TH, 2004. L TO R ARE CLIFF, PETER AND BILL.
AVR 2365 HEADS OUT OF WEST TUNNEL ACROSS THE DIAMOND BEFORE RETURNING TO CHARLESWOOD STATION ON HER MAIDEN TRIP AROUND THE AVR.

AVR 2365 STEAMS ON THROUGH AMUR GLEN ON HER FIRST RUN WITH BILL AT THE CONTROLS.

AVR 2365 WAITS AT CHARLESWOOD STATION WHILE ANOTHER GROUP OF PASSENGERS GET ON.

PETER AND HIS SISTER ON 2365 AT CHARLESWOOD STATION.
Foundation for new engine house just before concrete pour. Lots of steel.

AVR ENGINE HOUSE EAST STORAGE AREA IS THE FIRST TO GET CONCRETE. VIC AND RICHARD ARE ON THE SCREED BOARD AND FRED AND ROB ON THE HOSE.
AVR ENGINE HOUSE POUR CONTINUES WITH VIC AND RICHARD STILL ON THE SCREED. FRED, DAVID AND JIM ARE SPREADING CONCRETE. THE TWO STANDING ON THE RIGHT ARE THE PUMP OPERATOR AND THE CONCRETE TRUCK OPERATOR.

AVR ENGINE HOUSE PAD IS COMPLETE AFTER FIRST FLOAT. VIC STAYED UNTIL 2:30 A.M. TO TROWEL THE AREA.
Page set up by Bill Taylor of Winnipeg on July 14th, 2004 and modified Dec 1st, 2005 and we have had
visitors since July 14th 2004 to this page.