CHRISTMAS AT THE TAYLORS FOR 2007-2008
EACH YEAR WE ADD TO THE LIGHTS AND 2007/8 WE WENT FROM 87,500 LIGHTS TO 93,456 LIGHTS. SOME PARTS OF THE DISPLAY ARE CHANGED EACH YEAR WHILE MANY FEATURES STAY THE SAME. MORE NEW FEATURES WERE ADDED INCLUDING THIS NEW ANGEL THAT GREATS PEOPLE AS THEY ENTER THE MAIN YARD.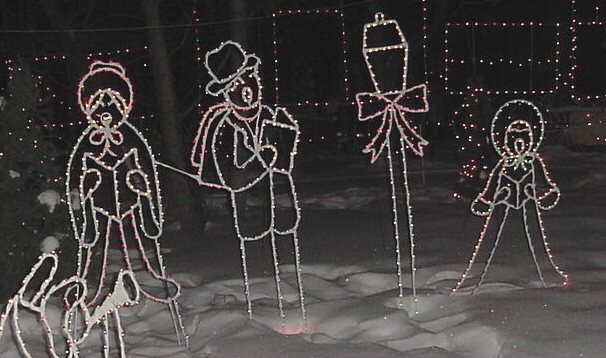 A NEW FOUR PIECE VICTORIAN CAROLER DISPLAY WAS ADDED IN THE CENTRE PART OF THE YARD. EACH ITEM HAS DIFFERENT COLOURS ON DIFFERENT PARTS BUT A B & W PICTURE SHOWS THEM BEST. THE DISPLAY IS LIFE SIZE. IT TOOK ABOUT FOUR DAYS TO PUT ON THE 700 LIGHTS.
NEW FOR THIS YEAR LOCATED ON THE WEST SIDE WALKING TRAIL WAS THE NINE FOOT HIGH GINGERBREAD HOUSE WITH BOY AND GIRL. THE DISPLAY HAS ABOUT 700 LIGHTS. THE BROWN LIGHTS WERE ALL HAND PAINTED TO GIVE IT THE RIGHT COLOUR.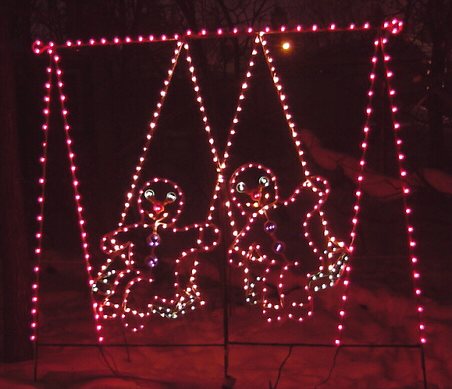 THE SECOND DISPLAY IN THE GINGERBREAD FAMILY WAS A BOY ON A SWING (ANIMATED) SO ONLY ONE FIGURE IS ON AT A TIME GIVING THE EFFECT OF SWINGING. THIS DISPLAY WAS ALSO LOCATED ON THE WEST SIDE TRAIL.
A VERY POPULAR DISPLAY THIS YEAR WAS THE ANIMATED SEA MONSTER OGO POGO VIEWABLE FROM THE OLD LINE OF THE RAILWAY AND THE WEST TRAIL. THE TAIL WAGED BACK AND FORTH. THE DISPLAY IS ABOUT 30 FEET LONG. THE WATER WAS BLUE LED'S BUT THEY WERE VANDALIZED BY SQUIRES AND WERE REPLACED BY CONVENTIONAL MINI LIGHTS.
A CLOSE UP SHOT OF OGO POGO. THE YELLOW LIGHTS WERE ALL HAND PAINTED.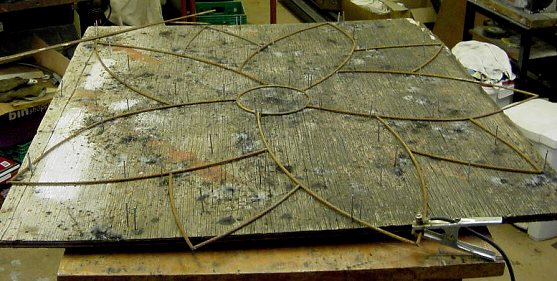 WHILE A FEW STEEL FRAMES ARE PURCHASED FOR THE DISPLAY THE VAST AMOUNT ARE CREATED RIGHT AT CHRISTMAS AT THE TAYLORS EACH YEAR USING STEEL, TEMPLATES, WELDING, PAINTING AND PUTTING ON LIGHTS. THE PROCESS CARRIES ON ALL YEAR. IN THIS SHOT A FOUR FOOT POINSETTIA IS LAID OUT READY FOR WELDING.
THE LAST PICTURE IS A FOUR FOOT SNOWFLAKE FRAME SET UP READY FOR WELDING. NEXT YEAR WE NEED TO BUILD MORE STARS, SNOWFLAKES AND NEW STYLE TREES FOR THE PROPOSED ANIMATED LIGHT DISPLAY ON THE WEST TRAIL.
PEOPLE LOOKING AT THIS PAGE
since January 26th, 2008