CHRISTMAS AT THE TAYLORS FOR 2006-2007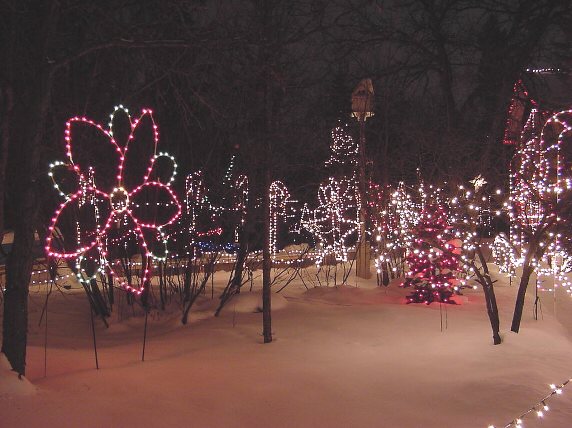 EACH YEAR WE ADD TO THE LIGHTS AND 2006/7 WAS NO EXCEPTION AS WE WENT FROM 81,024 LIGHTS TO 87,500 LIGHTS. SOME PARTS OF THE DISPLAY ARE CHANGED EACH YEAR WHILE MANY FEATURES STAY THE SAME. ABOUT 40 ITEMS GOT NEW MORE COLOURFUL LIGHTS FOR 2006. THIS IS THE VIEW FROM THE NORTH EAST LOOKING SOUTH WEST TO THE CENTRE OF THE YARD.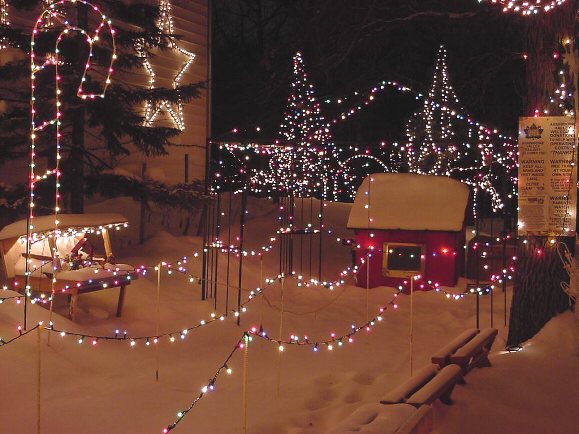 THE 2006/07 VIEW OF THE "Q" AREA WHERE PEOPLE LINE UP TO GET TRAIN RIDES. SNOW HAS NOT YET BEEN CLEARED FOR THIS DAYS RUN.
NEW ANIMATED POLAR BEAR STANDS WATCH IN THE FRONT YARD.
WHAT MAKES THE WHOLE DISPLAY COME ALIVE IS THE THOUSANDS OF PEOPLE WHO DRIVE IN OR WALK IN TO EXPERIENCE THE CHRISTMAS JOY AND TO WANDER AROUND OR RIDE ON THE TRAIN THROUGH OUR 87,000 LIGHTS. WE DISPLAY THE NATIVITY OF OUR LORD FOR WHICH THIS SEASON IS NAMED.
PEOPLE LOOKING AT THIS PAGE
since January 16th, 2008