CHRISTMAS AT THE TAYLORS FOR 2005-2006
EACH YEAR WE ADD TO THE LIGHTS AND 2005/6 WAS NO EXCEPTION AS WE WENT FROM 71,000 LIGHTS TO 81, 024 LIGHTS. SOME PARTS OF THE DISPLAY ARE CHANGED EACH YEAR WHILE MANY FEATURES STAY THE SAME. ABOUT 60 ITEMS GOT NEW MORE COLOURFUL LIGHTS FOR 2005. THIS IS THE VIEW FROM THE LOWER PARKING LOT LOOKING WEST. THIS YEAR THE MAIN HOUSE WAS CYCLING THROUGH THE COLOURS OF RED, BLUE AND GREEN.
THE 2005/06 VIEW OF THE YARD AND THE STATION AS YOU CAME UP FROM THE LONG WALKING TRAIL THROUGH THE FORREST. IT ALWAYS GETS A "WOW" FROM THE VISITORS.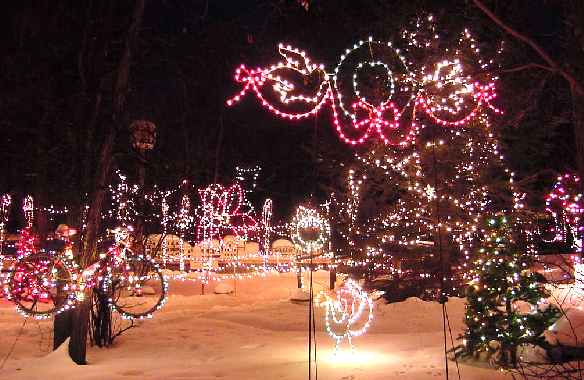 THERE WERE MORE LIGHTS IN THE YARD. THIS PICTURE IS LOOKING TO THE SOUTH WEST FROM THE 90 FOOT LONG TRAIN.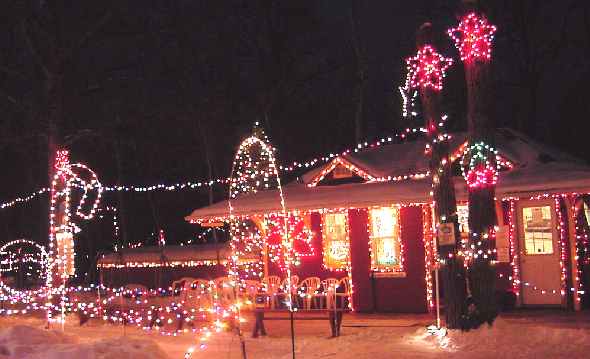 THE STATION WHERE DURING THE 2005/06 SEASON 13,447 PEOPLE BOARDED ONE OF OUR FOUR TRAINS FOR A MAGICAL TRIP INTO OUR SEVEN ACRES OF TRAILS AND LIGHTS. THE STATION HAS A LIGHTING SYSTEM THAT CYCLES THROUGH FOUR COLOUR CHANGES.
A BLUE TREE IN CONTRAST TO THE WHITE SNOW AND WALL.
SOME OF THE 22 WRAPPED TREES AT CHAPMAN ON THE ASSINIBOINE VALLEY RAILWAY. THE ONLY WAY TO GET A CLOSE LOOK AT THIS AREA IS BY TRAIN. THIS AREA WAS NEW FOR 2004. WE CONTINUED TO ADD LIGHTS IN 2005.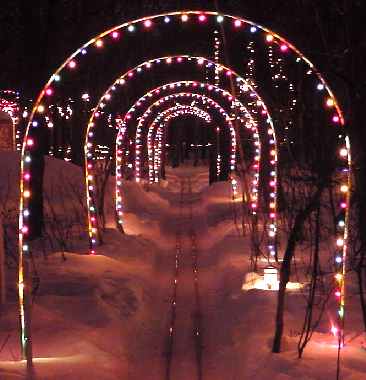 THIS IS THE LONGEST TUNNEL OF LIGHTS OVER THE RAILWAY AND YOU CAN ONLY EXPERIENCE IT IF YOU RIDE THE TRAIN. THERE ARE EIGHT ARCHES OVER THE TRACK ON THIS PART.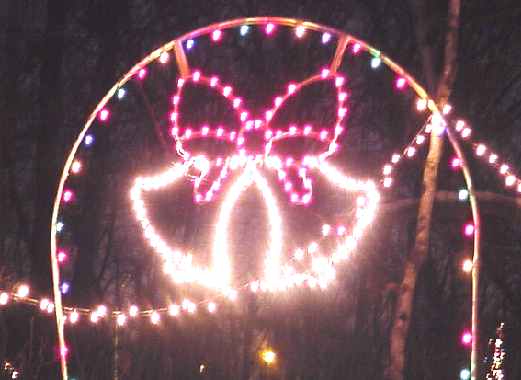 WE ADDED A SWINGING BELL TO ONE OF OUR NINE FOOT HIGH ARCHES OVER A WALKING TRAIL SO GUESTS GET TO WALK BENEATH THE SWINGING BELLS. WE ARE SO PLEASED WITH THE EFFECT THAT WE WILL ADD SIX MORE NEXT YEAR.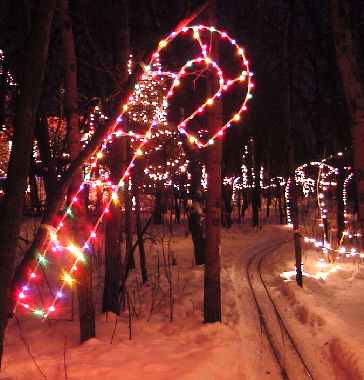 ONE OF THE NEW FOR 2005 CANDY CANES ALONG THE TRACK SOUTH OF OLD FORT. EACH YEAR WE ADD TO THE DISPLAY BUT ALL THOSE PREVIOUS PICTURES IN PREVIOUS YEARS ARE STILL VALID FOR 2005/06 BECAUSE THOSE FEATURES ARE STILL BEING USED DURING THIS SEASON.
WHAT MAKES THE WHOLE DISPLAY COME ALIVE IS THE THOUSANDS OF PEOPLE WHO DRIVE IN OR WALK IN TO EXPERIENCE THE CHRISTMAS JOY AND TO WANDER AROUND OR RIDE ON THE TRAIN THROUGH OUR 81,000 LIGHTS. WE DISPLAY THE NATIVITY OF OUR LORD FOR WHICH THIS SEASON IS NAMED. IN THE LAST PICTURE SITS OUR 12,000 RIDER FOR THE 2005/06 CHRISTMAS SEASON. JAMES FRISCHBUTTER AGE 13 MONTHS WITH HIS FATHER DAVID FRISCHBUTTER.
PEOPLE LOOKING AT THIS PAGE
since January 12th, 2006