CHRISTMAS AT THE TAYLORS FOR 2004-2005
THE FIRST PICTURE WAS TAKEN AND SENT BY PETE HELFRICH ON FRIDAY NOV 26TH, 2004. IT IS TAKEN AT THE ENTRANCE TO THE YARD AND SHOWS SOME OF THE 67,000 PLUS LIGHTS.
THE AVR TRAIN STATION IN 2004-05 SEASON WITH THE "Q" AREA IN THE FRONT. NEXT SIX PICTURES TAKEN DIGITALLY BY BILL TAYLOR ON DEC 14TH.
LOOKING TOWARDS THE HOUSE AND THE YARD WITH FOOT BRIDGE.
NEW NATIVITY IN FRONT AREA. THE OLD DISPLAY WAS MOVED TO THE STATION "Q" AREA TO HELP THOSE IN LINE FOR A TRAIN REMEMBER WHY WE OBSERVE CHRISTMAS.
ONE OF TWO NEW MAPLE LEAFS THAT WERE MADE UP AND SET INTO THE DISPLAY.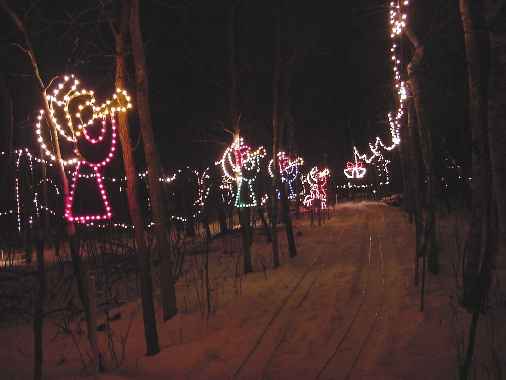 FOUR OF THE FIVE NEW ANGELS ALONG THE TRACK AT WINCH. THE TRAIN PASSES UNDER THE NEW DOUBLE BELLS DOWN THE TRACK.
WINCH SIDING HAS BEEN NICK NAMED FLAMINGO GULCH AFTER THESE TWO NEW CHARACTERS IN THE DISPLAY. PART OF THE 10,000 ADDITIONAL LIGHTS ADDED FOR THIS SEASON.
PAGE NEW DEC 1st 2004 AND UPDATED DEC 15TH, 2004 BY BILL TAYLOR OF WINNIPEG
PEOPLE LOOKING AT THIS PAGE