AVR OUTSIDE BRACED STOCK CAR
THE BUILDERS PHOTO OF PETER'S LAST CAR. CONSTRUCTION DETAILS ARE MUCH LIKE THE OUTSIDE BRACED BOX CAR.
THE FLOOR AND UNDER CAR PARTS AND CONSTRUCTION IS IDENTICAL TO THE OUTSIDE BRACED BOX CAR EXCEPT FOR THE SLIDE DOORS ON THE ENDS, SO THE FIRST FEW PICTURES OF THE BOX CAR COULD BE LOOKED AT FOR DETAILS.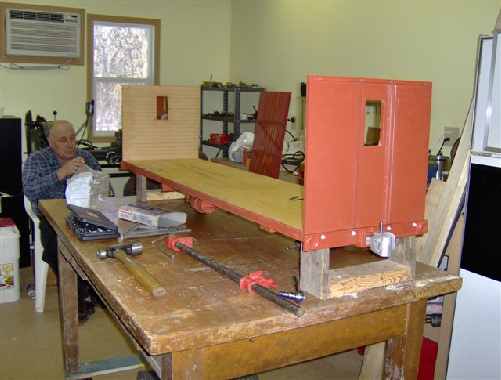 THE ABOVE PICTURE IS OF THE FLOOR AND ENDS MOUNTED OF THE NEW STOCK CAR
| | |
| --- | --- |
| | A STOCK CAR REQUIRES A GREAT DEAL OF INDIVIDUAL SLATS TO ALLOW THE CATTLE BEING TRANSPORTED FRESH AIR AND VENTILATION. THE TRUE MEANING OF OUTSIDE BRACED FRAME IS SHOWN OFF TO ITS BEST ADVANTAGE AS THE STEEL "Z" AND ANGLE BRACING ACTUALLY HOLDS THE WALL TOGETHER. |
ALL PICTURES BELOW ARE SHOWN AS THUMBNAIL PICTURES AND MAY BE ENLARGED BY CLICKING ON THE PICTURE.
THE ABOVE PICTURE SHOWS SIDE COMPONENTS BEING PAINTED BY PETER AND FRED. CLICK ON THE SMALL PICTURES TO ENLARGE THEM FOR BETTER VIEWING
ROB IS NAILING BRADS INTO THE SIDES TO FIX THE SLATS TO THE BRACING. NOTE THE USE OF PLAYING CARDS TO GET THE CORRECT SPACING OF THE SLATS.

ONE OF THE SIDES COMPLETED AND READY TO BE MOUNTED ON THE CAR.
SIDES MOUNTED TO CAR WITH SUPPORT MEMBERS BEING GLUED INTO THE TOP FOR SUPPORT. CLICK ON PICTURE TO MAKE IT LARGER.

INSIDE VIEW OF STOCK CAR AS LOOKED AT BY A COW.
PETER CUTTING ROOF RIBS FOR THE STOCK CAR ROOF.
PETER PAINTING THE TOP OF CAR.
ROB FASTENING IN THE SOUND SYSTEM FOR THE CAR TO MAKE COW SOUNDS.

THE HEARD MOVES INTO THE FINISHED CAR.
PAGE MADE March 24th, 2006 BY BILL TAYLOR OF WINNIPEG AND MODIFIED Feb 5th, 2007
VIEWERS SINCE MARCH 24th, 2006