AVR OUTSIDE BRACED BOX CARS #434-444-454-464
ALL FIVE OUTSIDE BRACED BOX CARS IN OUR ROSTER.
THE AVR STARTED BUILDING A SERIES OF FOUR OUTSIDE BRACED BOX CARS SIMILAR TO THE ONE PETER BUILT WITH SOME NOTABLE DIFFERENCES. BILL DESIGNED A STEEL FRAME FROM COUPLER TO COUPLER SO THESE CARS COULD BE USED IN LONG TRAINS. THE ROOFS WOULD BE REMOVABLE FOR STORAGE INSIDE AND THEY WOULD HAVE END MOUNT BRAKE WHEELS AND RAIL REINFORCING THE ENDS AS THE ORIGINALS AFTER BEING SHOPPED.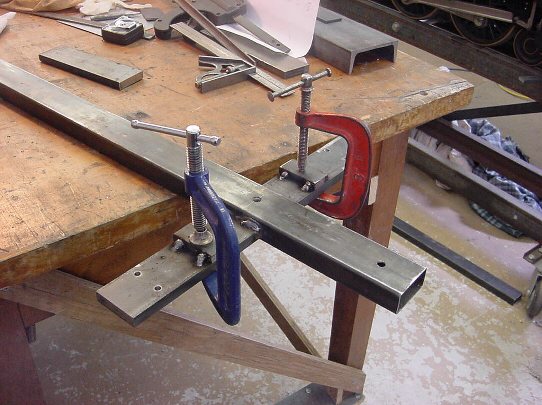 BILL CUT AND WELDED FOUR STEEL FRAMES.
BILL MOUNTING THE STEEL FRAME TO THE 1" BIRCH FLOOR.
GIL MARKING SIDES TO BE SCRIBED. BILL DID ONE SET WHILE GIL DID THREE.. CLICK ON THE SMALL PICTURES TO ENLARGE THEM FOR BETTER VIEWING
BILL FASTENED THE SIDES AND ENDS OF ALL FOUR CARS TOGETHER USING NAILS AND GLUE. ONCE TOGETHER THE WHOLE BOX WAS GIVEN A COAT OF SHELLAC AND SANDED.
CLAMPS WHERE USED TO KEEP THE BOX SQUARE.

THE END SILLS WHERE MACHINED, DRILLED AND MOUNTED ON EACH END OF ALL FOUR CARS. BILL DID THE MOUNTING BUT FRANK HELPED WITH THE FILLING. CLICK ON PICTURE TO MAKE IT LARGER.
BILL DID ALL THE CASTING USING PETER'S ORIGINAL MOULDS BUT THE OLD RUBBER STARTED TO FAIL AND NEW RUBBER MOULDS HAD TO BE MADE TO COMPLETE THE PROCESS.

A TREE OF GUSSETS AND BRACES. THE CLUBS NEW POWER SANDING STATION MADE CLEANUP EASIER.
THE GUSSETS WERE GLUED AND NAILED INTO PLACE WITH Z BRACING BEING FORMED, CUT AND NAILED IN PLACE. ROB, FRANK AND PHIL M. HELPED BILL WITH THE DRILLING AND NAILING .
PETER'S ORIGINAL LADDER JIG WAS LOST SO BILL MADE UP A NEW JIG TO HELP WITH THE 16 LADDERS THAT WERE BUILT..

SEVERAL OF THE END LADDERS..
8 SIDE LADDERS AND 8 END LADDERS WHERE NEEDED.
HOLES FOR BRADS BEING DRILLED ON DRILL PRESS.
MASS PRODUCTION OF ALL EIGHT DOORS.
COMPLETED DOOR ASSEMBLY READY TO BE PAINTED

BILL SCRIBING AND FILING EIGHT ROOF SECTIONS.

ROOF PRODUCTION.

ROOF WALK FOUNDATION BLOCKS ARE INSTALLED.
ROOF WALKS IN PLACE AND PAINTED.
UNDER SIDE BRAKE CASTINGS GETTING MOUNTS ADDED AND SOME PATCHING.

UNDERSIDE OF CAR WITH DETAILS MOUNTED.
CAR END BRAKE WHEEL AND DETAIL.
MAIN SIDE LETTERING.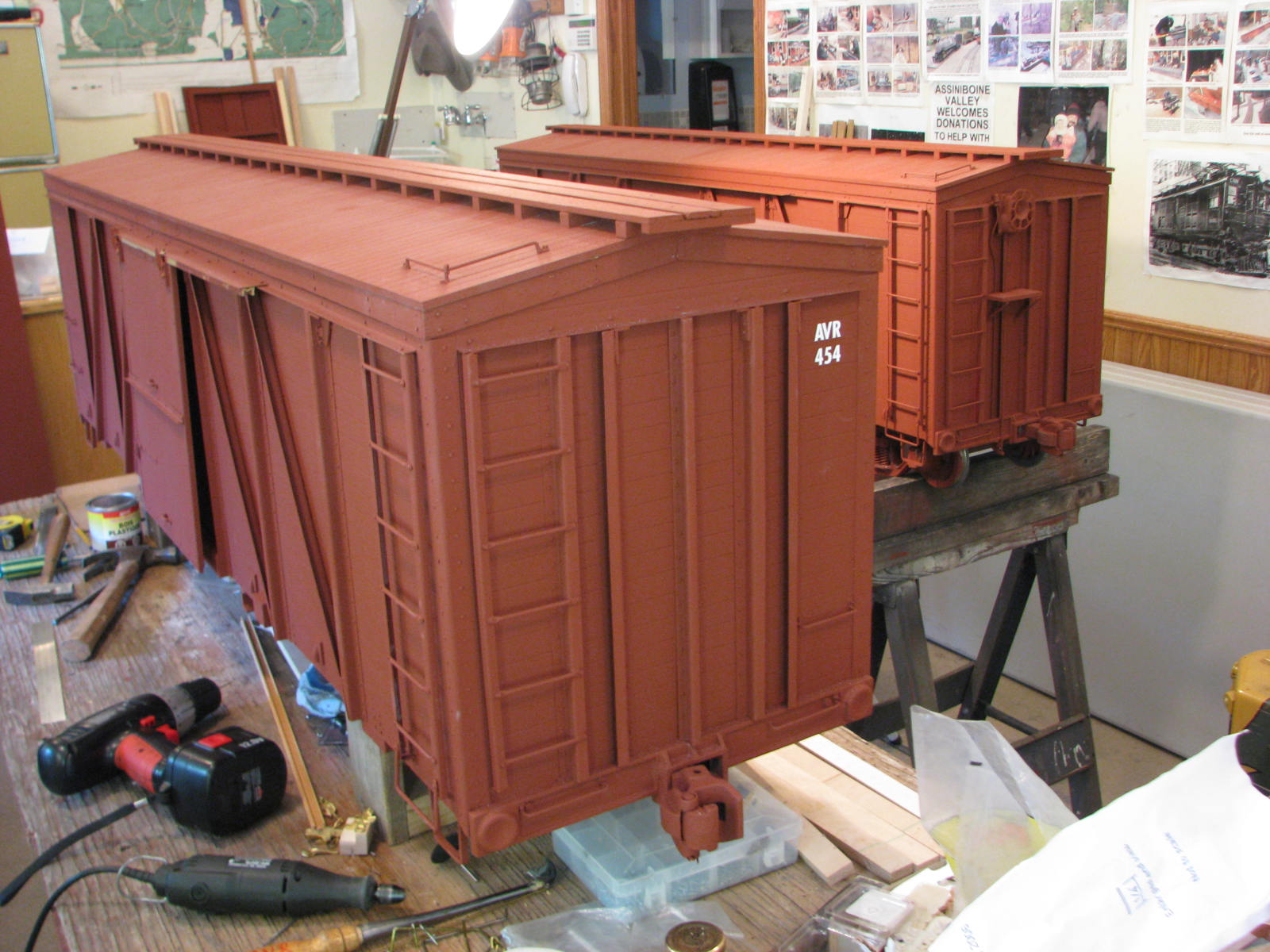 PAGE MADE JANUARY 28TH, 2010 BY BILL TAYLOR OF WINNIPEG UPDATED JANUARY 26TH, 2012
VIEWERS SINCE JANUARY 28TH, 2010