AVR OUTSIDE BRACED BOX CAR #424
PETER STARTED THIS CAR A NUMBER OF YEARS AGO WHEN THE PLYWOOD SIDES AND FLOOR WERE CUT OUT BUT NOW THAT THE AVR HAS A NEW ENGINE HOUSE AND MACHINE SHOP THE CAR STARTED TO BE BUILT MORE EXPEDITIOUSLY.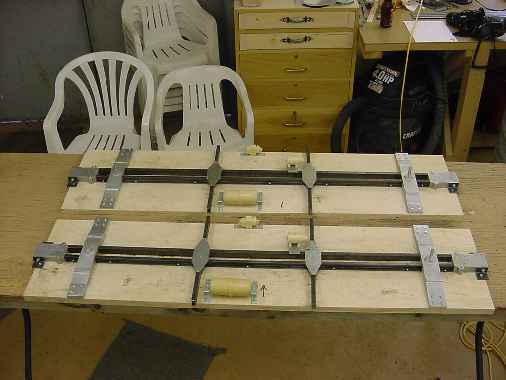 THE ABOVE PICTURE IS OF THE FLOORS FOR BOTH THE BOX CAR AND STOCK CAR THAT IS ALSO STARTING WITH ALL COMMON PARTS BEING BUILT FOR TWO.
ABOVE PICTURE SHOWS THE TRUCKS AND COUPLERS ON WITH END SILL AND ALL PARTS PAINTED.
THE ABOVE PICTURE SHOWS SIDE COMPONENTS THAT REQUIRED A MASTER PATTERN FROM WHICH A MOLD WAS MADE AND THE NEEDED PARTS CAST USING "SMOOTH CAST." THIS SAVES TIME WHEN MULTIPLE SMALL DETAIL PARTS ARE NEEDED. CLICK ON THE SMALL PICTURES TO ENLARGE THEM FOR BETTER VIEWING

THE SIDE AND END "Z" BRACING WAS MADE OF 22 GAUGE SATIN FINISHED STEEL SHEET SHEARED AND PUT THROUGH A BRAKE TO MAKE THE SHAPE, THEN CUT AND TRIMMED TO LENGTH AND FINALLY FASTENED TO THE CAR WITH SMALL STEEL BRADS, BETWEEN SEVEN AND EIGHT HUNDRED OF THEM WERE USED.
THE SIDES AND ENDS ARE FASTENED ON TO THE FLOOR WITH NAILS, SCREWS AND GLUE DILIGENTLY CARRIED OUT BY ROB. THE CAR IS STARTING TO TAKE SHAPE.
PICTURE OF ROOF FRAME. CLICK ON PICTURE TO MAKE IT LARGER.
LADDER DETAIL ON BRAKE END OF CAR.

CLOSE UP OF BRAKE WHEEL DETAIL AND RETAINING VALVE.
NOTE THE HUNG RUNG AT THE BOTTOM OF THE LADDER.
DOORS WORK ON ROLLERS AND DOOR STOP SO THEY OPEN AND CLOSE.
PETER HANGING THE FIRST DOOR ON THE BOX CAR.
THE LATCH CASTINGS ARE QUITE SMALL AND INTRICATE AND THEY ALL WORK.
PAGE MADE SEPTEMBER 12TH, 2005 BY BILL TAYLOR OF WINNIPEG AND MODIFIED April 10TH, 2006
VIEWERS SINCE SEPTEMBER 12TH, 2005