AVR 36 FT WOOD STOCK CARS
#725-735
CARS HAVE STEEL FRAMES FROM COUPLER TO COUPLER TO ALLOW STRONGER AND LONGER TRAINS.
MANY DETAIL PICTURES OF CASTING CAN BE FOUND WITH OTHER CAR FABRICATION PAGES AS PARTS ARE THE SAME OR SIMILAR.
CLICK ON THE SMALL PICTURES TO ENLARGE THEM FOR BETTER VIEWING
BILL CAST THREE WAY BRAKE CASTINGS AND DETAIL PARTS FROM PETER'S ORIGINAL WOOD MASTERS AND THEN SANDED AND DE-FLASHED PARTS AND ASSEMBLED TO FINISHED PRODUCT.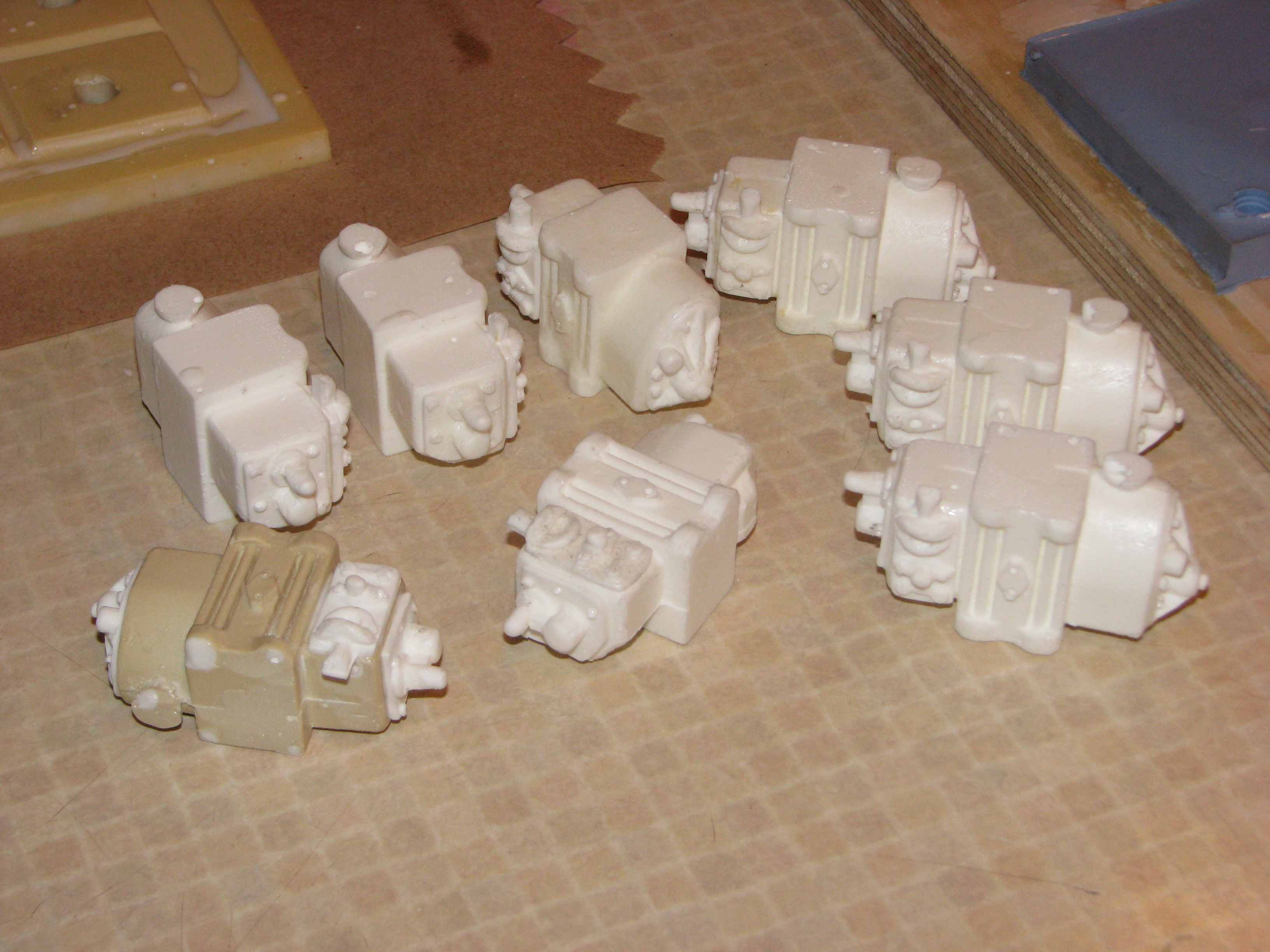 COMPLETED CASTINGS READY TO BE INSTALLED AND PAINTED.

THIS PILL REPRESENTS THE 40 2" X 1/2" BOLSTER BARS CUT FOR WELDING INTO THE 6 ORE CAR, 2 STOCK CARS AND 2 CABOOSE FRAMES THAT ARE BEING MADE.

THE SET UP USING CLAMPS TO HOLD THE BOLSTER BARS IN PLACE DURING WELDING. BARS ARE LOCATED 6 1/4" FROM END OF SILL. DURING THIS STAGE THE HOLES FOR TRUCK SECURING NUTS AND COUPLER HOLES ARE MARKED.

FIVE ORE CAR FRAMES AND TWO STOCK CAR FRAMES ARE WELDED READY FOR DRILLING AND MOUNTING ON CAR FLOORS.
TEN FLOORS FOR SIX ORE CARS, 2 STOCK CARS AND 2 CABOOSE.
STOCK CAR FLOOR WITH STEEL FRAME ATTACHED. GIL DID LENGTH CUTS ON WOOD WHILE BILL CUT AND WELDED THE STEEL FRAMES.
TWO STOCK CAR FLOOR FRAME ASSEMBLIES WITH EXTRA SUPPORT STEEL CHANNELS ADDED. BILL CUT CHANNEL WHILE GORDON DRILLED OUT SCREW HOLES. BILL DID FINAL ASSEMBLY.

AIR RESERVOIR STEEL MOUNTING BRACKETS.
THE TWO PLASTIC CAST AIR RESERVOIRS WILL BE MOUNTED ON THE STOCK CARS.

THE END SILLS ARE PRE-PAIRED AND FASTENED TO THE CAR.
THE ENDS AND SIDE PIECES ARE SCRIBED AND GLUED AND NAILED IN PLACE. DOOR OPENINGS WILL BE CUT OUT LATER.

CORNERS ARE MARKED, PUNCHED AND PRE DRILLED BEFORE PLACING ON CAR.
END OF THE CAR WITH SOME DETAIL COMPLETED.
AN UPPER WOOD FRAME WAS BUILT TO HOLD THE WALLS STRAIGHT AND AN UPPER SHELF WAS INSTALLED.
THE 24 SLATS WERE CUT AND NAILED INTO PLACE. NOTE SPACERS AND CLAMPS DURING THE NAILING STAGE.

THE FIRST ANGLE PIECE NAILED INTO PLACE WITH ALL SLATS IN PLACE.
LADDER RUNGS BEING DRILLED ON THE PRESS BEFORE RIVETS ARE ADDED.

A COMPLETED LADDER READY TO GO ON THE CAR.

LADDERS AND OTHER DETAILS ADDED.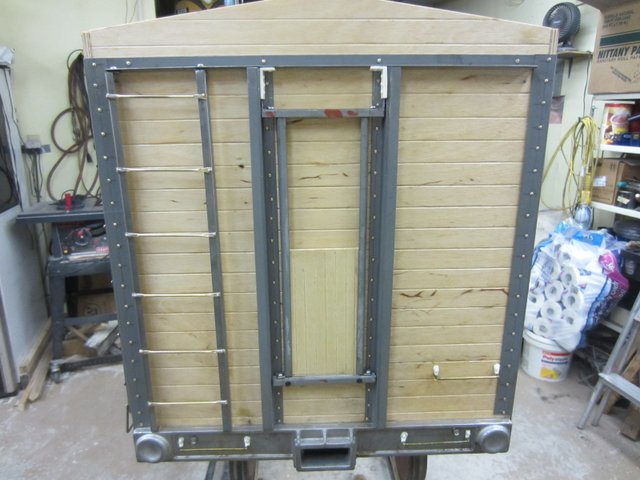 CAR END SERVICE HATCH FRAME AND DOOR. NOTE OPENING IS NOT YET CUT.
THE STOCK CAR NOW HAS THE ROOF ON WITH TRIM AND THE START OF THE ROOF WALK.
THE LAYOUT OF THE FIRST DOOR READY TO BE NAILED TO THE STEEL ANGLE IRON. GIL CUT THE SLATS AND TOP AND BOTTOM PIECES. BILL SCRIBED THE LARGER PIECES AND TRIMMED IT ALL TO SIZE FOR THE FIRST DOOR.
COMPLETED DOOR WITH PAINT READY FOR INSTALL.
ALMOST COMPLETED WITH ITS PAINT.
STOCK CAR #725 ON THE ENGINE HOUSE LIFT READY FOR COUPLERS AND ITS FIRST TRIP WITH COWS SO THERE WILL BE A NEED TO PAINT THE LOWER PART OF THE CAR WITH LIME TO TAKE CARE OF WHAT COWS IN A CONFINED SPACE DO.
CLICK ON PICTURE TO MAKE IT LARGER.
PAGE MADE MARCH 25TH, 2012 BY BILL TAYLOR OF WINNIPEG UPDATED MAY 2ND, 2012
VIEWERS SINCE MARCH 25TH, 2012