AVR 22 FT WOOD ORE CARS
#340-350-360-370-380-390
CARS HAVE STEEL FRAMES FROM COUPLER TO COUPLER BUT WILL FIT A 45" ACTUAL SURPLUS SPACE IN OUR TRAILER AND CAN BE STAKED 2 HIGH.
ORE CAR 340 WAS THE FIRST TO BE COMPLETED WITH LETTERING ON BOTH SIDES. ONE MONTH BEFORE THE BUILT DATE OF JUNE 2012. BILL DID THE DESIGN, ASSEMBLY AND CONSTRUCTION WITH GIL LOOKING AFTER ALL THE WOOD CUTTING. VIC SPRAY PAINTED THE OUTSIDE. OTHERS HELPING WITH THE PROJECT WHERE, LEN, GORDON, FRANK, ED AND WAYNE.
BILL SCRIBING ONE OF THE TWELVE SIDE AND END WALLS FOR THE ORE CARS. A STEEL STRAIGHT EDGE IS BEING USED. ONCE ALL SCRIBING IS DONE THE PIECE WILL BE CUT TO MAKE THE SIDES AND ENDS. WE ARE USING BALTIC BIRCH 5 BY 5 FOOT PLYWOOD IN 1/4 INCH THICKNESS.
ALL 12 SIDES AND ENDS FOR 6 CARS HAVE BEEN SCRIBED AND FILED READY FOR FINAL CUTTING.
BILL CAST ENOUGH END SILLS FOR THE CARS AND MACHINED THEM AS NEEDED.. CLICK ON THE SMALL PICTURES TO ENLARGE THEM FOR BETTER VIEWING
BILL CAST THREE WAY BRAKE CASTINGS AND DETAIL PARTS FROM PETER'S ORIGINAL WOOD MASTERS AND THEN SANDED AND DE-FLASHED PARTS AND ASSEMBLED TO FINISHED PRODUCT.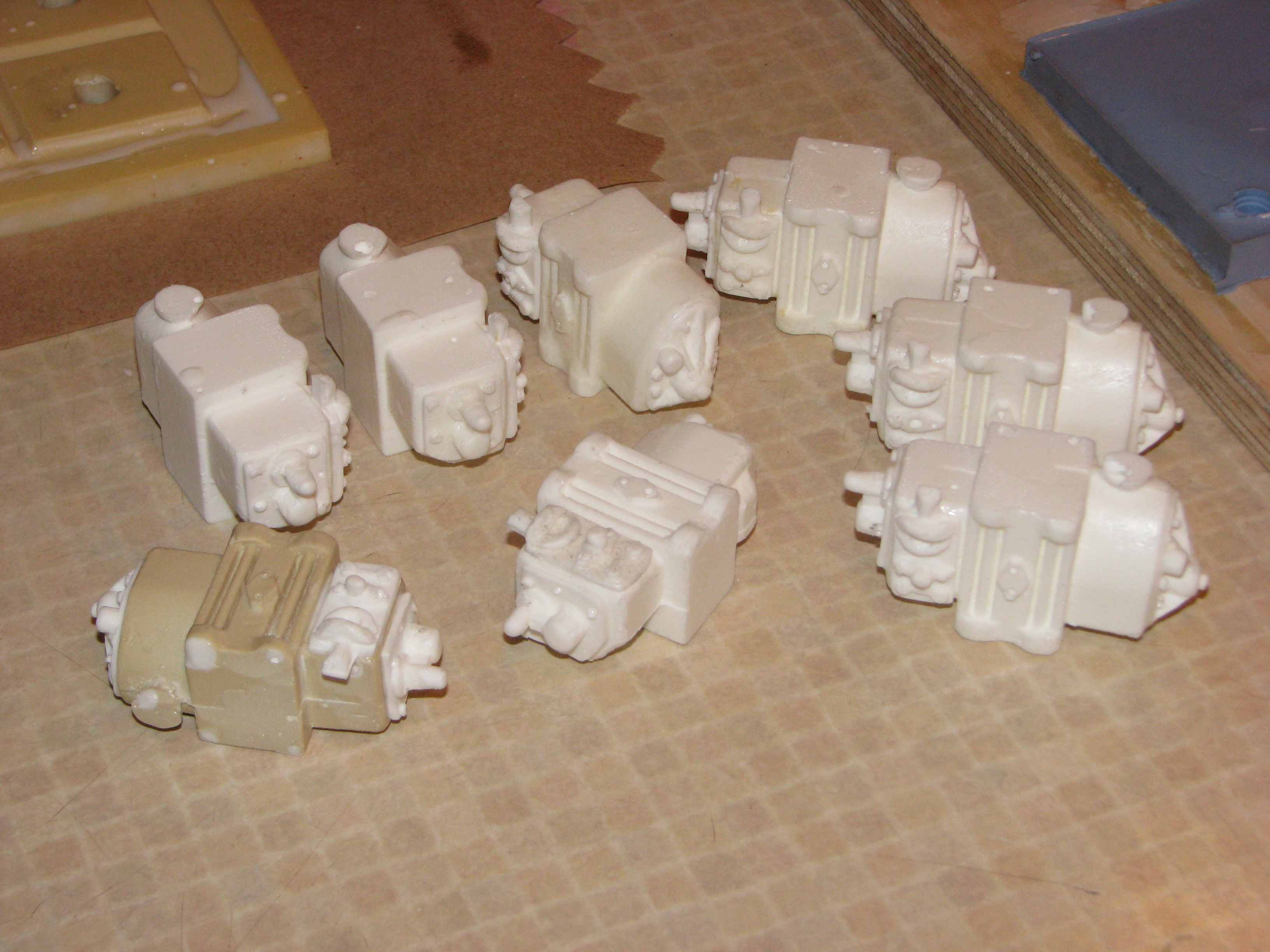 COMPLETED CASTINGS READY TO BE INSTALLED AND PAINTED.

THIS PILL REPRESENTS THE 40 2" X 1/2" BOLSTER BARS CUT FOR WELDING INTO THE 6 ORE CAR, 2 STOCK CARS AND 2 CABOOSE FRAMES THAT ARE BEING MADE.

THE SET UP USING CLAMPS TO HOLD THE BOLSTER BARS IN PLACE DURING WELDING. BARS ARE LOCATED 6 1/4" FROM END OF SILL. DURING THIS STAGE THE HOLES FOR TRUCK SECURING NUTS AND COUPLER HOLES ARE MARKED.

FIVE ORE CAR FRAMES AND TWO STOCK CAR FRAMES ARE WELDED READY FOR DRILLING AND MOUNTING ON CAR FLOORS.
TEN FLOORS FOR SIX ORE CARS, 2 STOCK CARS AND 2 CABOOSE.
ORE CAR FLOOR WITH STEEL FRAME ATTACHED. GIL DID LENGTH CUTS ON WOOD WHILE BILL CUT AND WELDED THE STEEL FRAMES.
ORE CAR WITH EXTRA SUPPORT STEEL CHANNELS ADDED. BILL CUT CHANNEL WHILE GORDON DRILLED OUT SCREW HOLES. BILL DID FINAL ASSEMBLY.
SIX OF THE COMPLETED ORE CAR FLOOR ASSEMBLIES COMPLETE WAITING FOR EXTRA DETAIL AND WALLS.

ASSORTED BRAKE PARTS FOR SIX ORE CARS AND 2 STOCK CARS.
BASSES UNDER CONSTRUCTION.
OLD STYLE COMBINATION BRAKE DETAIL WITH BASSES.

EIGHT FORMED AND DRILLED MOUNTING BRACKETS FOR TWO ORE CARS AND TWO STOCK CARS.
FOUR COMBO BRAKE ASSEMBLIES MOUNTED ON BASSES.
THREE NEW STYLE AIR RESERVOIRS, TWO TURNED OUT OF WOOD BY GIL AND ONE CAST IN PLASTIC BY BILL.

FOUR RESERVOIRS MOUNTED ON THEIR BRACKETS.
ONE COMPLETED UNDER FLOOR FRAME WITH ADDED BRAKE CASTINGS AND A PAIR OF RODS TO GIVE THE CAR THAT TURN OF THE CENTURY LOOK.
SET UP READY TO WELD THREADS ONTO ROD FOR SCREWING INTO TURNBUCKLES.
HALF A ROD MOUNTED ON CAR.
THREE FLOORS COMPLETED WITH RODS, SILLS, STUROPS, KINGPINS, TRUCK PADS ALL READY FOR ORE BOX TO BE MOUNTED ON TOP.
THE PILE OF SIDE TIMBERS AND ENDS THAT GIL CUT UP.
BILL MADE UP A JIG SO FOUR SUPPORT TIMBERS COULD BE MARKED, DRILLED AND DRIVE SCREWS INSTALLED.
FIRST END WALL WITH TIMBERS GLUED IN PLACE AND DRIVE SCREWS IN PLACE. NOTE BRAKE WHEEL.
FIRST WALL UNIT ASSEMBLED.
FIRST BOX ASSEMBLED WITH ALL 18 TIMBERS IN PLACE AND STAKE POCKETS SCREWED IN PLACE. ONCE DRY AND WITH ADDITIONAL SCREWS IN THE ENDS IT WILL BE READY TO BE AFFIXED TO THE CAR FLOOR AND FRAME ASSEMBLY.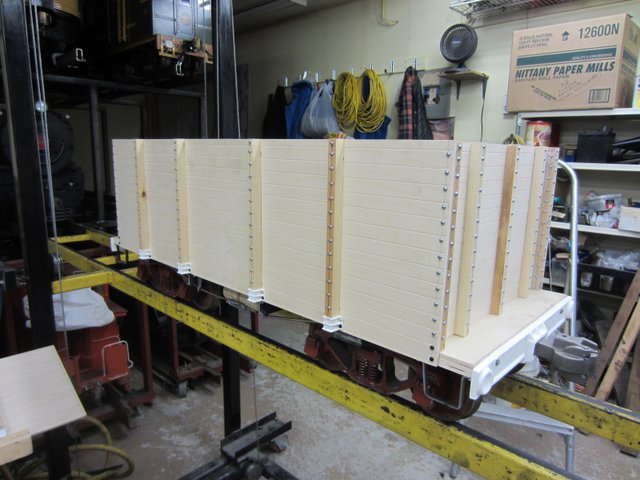 THE FIRST OF SIX ORE CARS COMPLETE TO THIS STAGE. THEY STILL NEED THEIR CAR END BRAKE WHEEL AND HOUSING, RETAINER VALVE AND LOWER GRAB IRONS. NATURALLY A COAT OF SHELLAC AND PAINT WOULD BE NICE.

AN ASSORTMENT OF TRIM PIECES, WOOD CUT BY GIL, GRABS BENT BY WAYNE, RODS AND BRAKES BY BILL.

A TRIAL LOOK AT THE POSSIBLE LETTERING.

A SIDE GRAB IRON WITH BOLT CASTING.
THE "B" END OF THE CAR WITH LADDER AND BRAKE PARTS ATTACHED.

ALL SIX ORE CARS ON THEIR FIRST TRIP OUTSIDE THE MACHINE SHOP WHILE THEY WERE BEING SORTED SO THE DETAILED CARS COULD BE PUT IN STORAGE WHILE THE THREE ON THE RIGHT ENDED UP ON THE LIFT TO BE WORKED ON. THE SHELLACKED CARS ARE DARKER IN COLOUR.
FOUR OF THE CARS WITH COUPLERS ON AND PAINT COMPLETED UNDER SIDE AND INSIDE WITH FIRST COAT.
VIC AND GIL PREPARING TO SPRAY PAINT THE OUTSIDE OF THE ORE CARS.
ALL SIX CARS SPRAYED ON THE STEAMING BAY TRACKS.
CARS BACK ON THE RAILS POSSE FOR A PICTURE IN FRONT OF CHARLESWOOD STATION.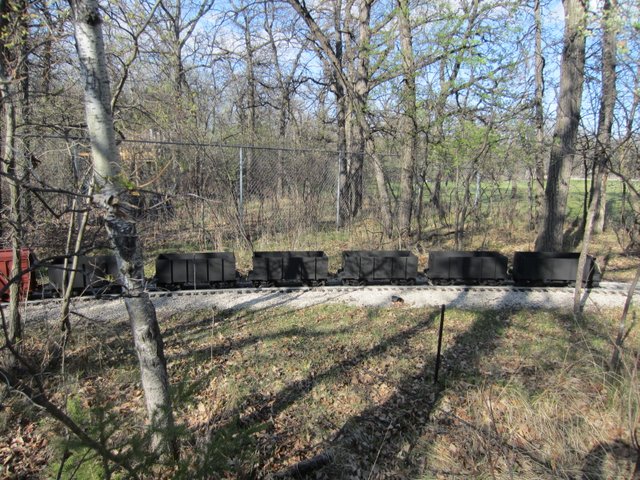 CARS ON THEIR FIRST TRIP AROUND THE MAIN LINE STOPPED AT MILE POST 16 AT THE LOWEST PART OF THE RAILWAY JUST EAST OF ASH GROVE.
CLICK ON PICTURE TO MAKE IT LARGER.
PAGE MADE FEB 6TH, 2016 BY BILL TAYLOR OF WINNIPEG UPDATED MAY 4th, 2012
VIEWERS SINCE FEB 13TH, 2012